How (and Why!) to Roast a Pumpkin
Forget the canned stuff. Learn how to roast a pumpkin for fresher flavor in these sweet and savory recipes from Food Network.
So whether you're test-driving a pumpkin pie recipe to make for Thanksgiving dinner or you want to mix up your tired salad routine with chunks of perfectly roasted pumpkin and toasted pepitas, here's what you need to know. Also, get the recipes for some of our favorite fresh pumpkin dishes.
To roast a 3-pound pumpkin, first preheat the oven to 375 degrees F. Remove the stem from the pumpkin and scrape out the insides, reserving the seeds for another use if desired. Cut the pumpkin in half and lay the pieces cut-side down on a rimmed baking sheet lined with aluminum foil. Rub canola oil all over the skin and bake until fork-tender, about 1 hour. Let cool before peeling the skin and using for purees, or cutting into wedges.
We're sorry, there seems to be an issue playing this video. Please refresh the page or try again in a moment. If you continue to have issues, please contact us here.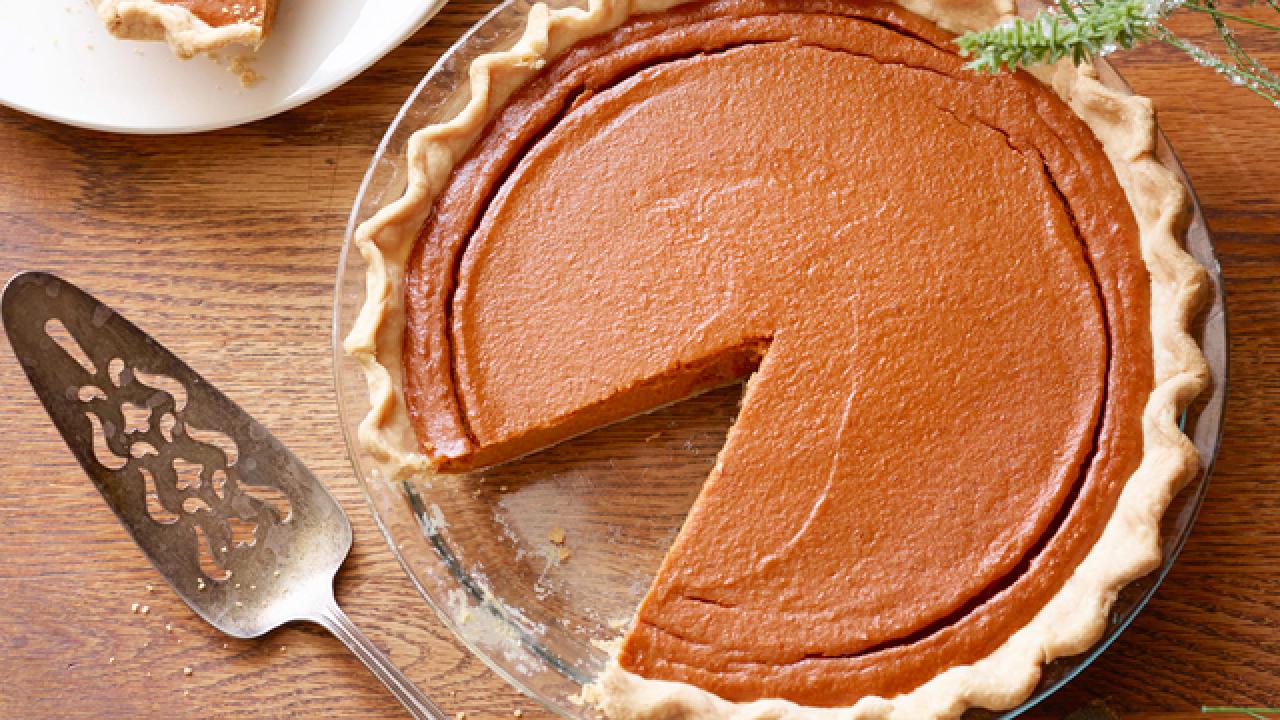 To make her From-Scratch Pumpkin Pie (pictured above), Nancy Fuller purees roasted pumpkin with sweetened condensed milk, whipping cream, molasses, cinnamon and ginger. Then she pours the deliciously scented filling into a flaky, homemade crust and bakes it to perfection.
Aida Mollenkamp's Creamy Baked Pumpkin Risotto comes together in under 40 minutes. It's an easy option for a weeknight supper, but it is also impressive enough to serve at a dinner party.
Tyler Florence's Roasted Pumpkin with Quinoa, Dates and Sage may be simple (it calls for just five ingredients), but it packs the best flavors of fall into one healthy bowl. "I serve this as a side, with slow-roasted pork shoulder or herb-roasted chicken and a glass of Pinot Noir," says Tyler.
Alice Gao, 2014, Television Food Network, G.P. All Rights Reserved
Damaris Phillip's Pumpkin Scones with Maple-Cinnamon Glaze for Thanksgiving Brunch as seen on Food Network's Southern at Heart
How do you "gild the lily" when it comes to warm pumpkin scones made with roasted pumpkin, pumpkin pie spice, cardamom and coriander? Drizzle them with a sugary glaze flavored by maple syrup and cinnamon.
Serve up our Squash Soup in Pumpkin Bowls for a sophisticated Allhallows Eve feast. Mini baking pumpkins such as Hooligan or Sugar Pie make beautiful and delicious edible vessels for the soup.