In Defense of Ramen: What I Make When I Can't Meal Prep
Here's why ramen isn't just "college food."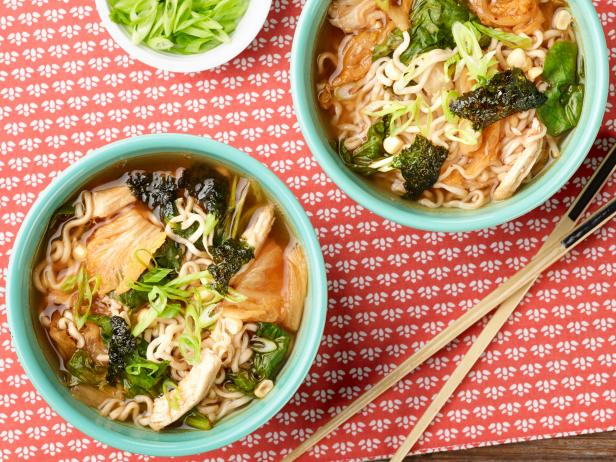 FNK_10_MinuteChickenCornAndKimchiRamen_H
Chef Name: Food Network Kitchen Full Recipe Name: 10-Minute Chicken, Corn and Kimchi Ramen Talent Recipe: FNK Recipe: Food Networks Kitchen's 10-Minute Chicken, Corn and Kimchi Ramen, as seen on Foodnetwork.com Project: Foodnetwork.com, Beat the Clock Dinners / Thanksgiving Show Name: Food Network / Cooking Channel: Food Network
Renee Comet, 2013, Television Food Network, G.P. All Rights Reserved
Download Food Network Kitchen now to sign up and take advantage of the latest offer and get 40+ live classes a week, hundreds of on-demand cooking classes, in-app grocery ordering and so much more.
I have a confession to make. When it comes to ramen, I have a bit of an obsession. Like most people, my love for the brothy noodles began in college when textbook fees, transportation and tuition drained my bank account. I can still remember looking nervously over my shoulder as I sneakily slurped a cup of noodles in the campus library, completely breaking the room's "no food or drink" policy. (Sorry, not sorry.) Though a lot of time has passed since then, I'm still a helpless ramen-tic, and you should be too!
Ramen often gets a bad rap because of the super-cheap, microwave-in-a-cup kind we see at the grocery store. And though that's definitely a big positive for broke college students, making your very own ramen from scratch completely changes the game without breaking the bank.
If you don't believe me, just give Food Network Kitchen's 10-Minute Chicken, Corn and Kimchi Ramen a try. Quick, easy and ultra-filling, it's my go-to dish for days when my jam-packed schedule and hour-long commute makes meal prepping dinner during the week an impossibility.
Still not convinced? Here are some other positives: With a total cook time of just 10 minutes — yes, you read that correctly — you'll have more than enough time to grab a workout class before or after making it, catch up on your favorite podcast or TV show while eating it, or just spend less time preparing dinner altogether.
If that isn't enough, there's the fact that most of your main ingredients — chicken broth, frozen corn, leftover rotisserie chicken and baby spinach — are things you probably already have in your refrigerator. I usually keep a jar of kimchi in the fridge, since I make this recipe a few times each month. (I omit the seaweed snack, but you can totally make it your own based on personal preference.) Plus, you only need one pan to make it, so cleanup is an absolute breeze!
So the next time you find yourself with no time to meal prep, look no further than a good bowl of ramen. Just take it from me, it'll change your life.