Find out where chefs go to satisfy their cravings for a New York slice.
Chefs' Picks tracks down what the pros are eating and cooking from coast to coast.
New York City may be many things to many people, but there's no denying it's a pizza town. The first commercial pies made on American soil were baked in a Manhattan oven at Lombardi's Pizza in 1905. And today on nearly every street in the five boroughs you can find a shop slinging slices slicked with sauce, smothered in cheese and adorned with virtually any topping imaginable. New Yorkers are passionate about pizza, and chefs are just as committed — maybe even more so — to their favorite spots for a slice in the Big Apple. Here, the pros dish on their top pizza picks.
Chef Gabriel Israel serves excellent modern Israeli food at Green Fig in Hell's Kitchen, but his first job was making wood-oven pies at his father's event space in Bnei Zion, about a half hour away from his hometown, Tel Aviv, Israel. He still advocates for wood-fired pies, preferably resembling those found on the Southern Italian coast. "I really like Neapolitan-style pizza — that's my weakness," says Israel. When the craving hits, the chef sticks close to home at Pizza Beach on the Upper East Side. The place hits all of Israel's requirements: wood-fired oven, good dough, quality ingredients. Another plus? It's right near his apartment. "Their margherita pie with housemade mozzarella is great, as is their four-cheese pie," Israel says.
Silvia Barban, chef-partner of just-opened LaRina Pastificio & Vino in Brooklyn's Fort Greene neighborhood, favors a handful of places spread throughout Brooklyn, Manhattan and Queens for their Neapolitan-style pies. The pizzas at Ribalta, Pizza Moto and Saraghina all are finished with the proper amount of sauce and high-quality toppings, she says. For Barban, though, it all comes down to the dough. Barban eschews commercial yeast, claiming a good mother yeast is integral in creating her preferred base: a thin center edged by a lofty crust full of air bubbles. At her top pizzerias, "the crust, or crosta (in Italian), is higher than the center, crispy outside but light and soft inside," says Barban. "My favorite pizza is margherita made with Burrata, black olives and arugula from Houdini Kitchen Laboratory" in Ridgewood, Queens, she adds.
Simpson Wong, chef-owner of highly acclaimed Chomp Chomp in Greenwich Village, helms a kitchen that turns out creative dishes inspired by the street food specialties unique to the hawker centers (aka open-air food courts) of Singapore. So where does Wong go when seeking out a slice of New York's own beloved street-food staple? He heads to Carroll Gardens for thin-crust pies in a casual, cash-only BYOB neighborhood (and celebrity) favorite. He describes the appeal of Lucali as "scratch cooking at its best that uses top-notch ingredients. The result is the perfect balance of char and chewiness." And the crowning achievement is the ideal ratio of toppings on each pie.
Born and raised on the Upper West Side, Steven Zobel left the harsh winters of the Northeast for the sunny shores of South Florida several years back. Now the chef of Big City Tavern in Fort Lauderdale, Zobel may not miss NYC's snow, but he certainly yearns for its slices. With so many quality places to choose from in his native city, this pizza aficionado has a hard time picking just one spot. "So, Arturo's and Lombardi's Pizza are my sit-down joints, but if I had to choose only one slice that reminded me of New York, it would be Sal and Carmine's, as this is what I grew up on," Zobel says. His chosen accoutrements: sausage and olives — and "maybe a grape drink to wash it down."
Photos courtesy of Pizza Beach, Houdini Kitchen Laboratory, John Marolakos and Sal and Carmine Pizza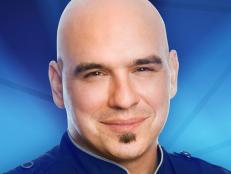 Food Network stars name their top burger spots.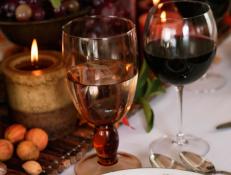 One might assume different shadings of bird would pose a pairing problem, especially once you factor in the cranberry-yammy-beany caravan that trundles across the table. Not so: There are several wines that bridge the Turkey Day food gap.