Foodie Call: Hot Ice Cream for the Winter
In this episode of Foodie Call, Justin meets up with Douglas Quint of Big Gay Ice Cream in New York City. Together they ponder the seasonal dilemma of how to enjoy ice cream during the cold winter months — and Justin comes up with an ingenious solution.
Using a little cool chemistry (methylcellulose, to be exact) he cooks up a hot ice cream using Doug's classic soft-serve base. This wacked-out recipe actually "melts" as it cools, and gets thicker when heated! Topped with a frozen brownie crumble, whipped cream and sprinkles, it manages to hit all the right notes of a classic warm-brownie sundae while also turning the dish completely on its ear.
Foodie Call: Hot Ice Cream
06:11
Justin uses cool chemistry to make hot ice cream.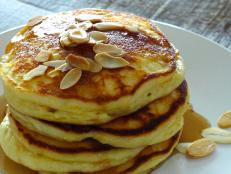 Winter's chill calls for a hot, healthy breakfast. Try these today!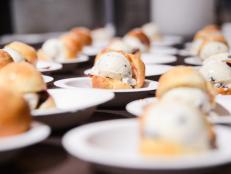 Ice cream was the real star of the New York Wine and Food Festival's Sweet! event hosted by Semi-Homemade Cooking star Sandra Lee.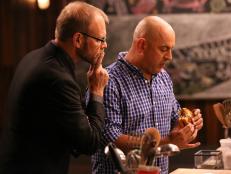 Watch Food Network's Cutthroat Kitchen: Alton's After-Show hosted by Alton Brown.