How to Quickly Bring Eggs to Room Temp
Because no one likes a flat, lifeless cookie.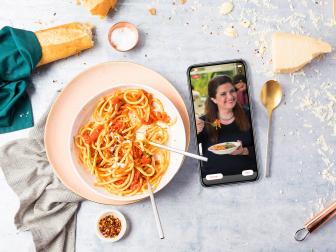 Download Food Network Kitchen now to sign up and take advantage of the latest offer and get 40+ live classes a week, hundreds of on-demand cooking classes, in-app grocery ordering and so much more.
We've all heard that room-temperature butter gets you light and airy cookies, but after watching baker and cookbook author Samantha Seneviratne's Quick Rainbow Cookies class on the Food Network Kitchen app, I was surprised to learn that room-temperature eggs are just as important in creating the perfect cookie texture. As she's making her cookies, which are inspired by Kids Baking Championship, Samantha explains why we don't want cold eggs in our batter and, most importantly, how to warm them up in a hurry.
"You want to make sure your eggs are room temperature because you don't want that butter to seize up," she explains. In the baking world, when butter "seizes," it means it hardens up, which ultimately leads to cookies that are denser than you'd want them to be. Because of this, ensuring your eggs are at room temp is an important step in your cookie-making process. However, if you're like me, sometimes you might forget to take your eggs out of the fridge in advance. So, how do you avoid having to wait what seems like an eternity for them to warm up when you really just want cookies RIGHT NOW?!
"An easy way to warm your eggs is just to set them in a little bit of warm water before you start baking and that will get them to room temperature a little bit quicker," says Samantha. The warm water will help speed up the process — just make sure the water isn't too hot to avoid cooking your egg. You can make this step part of your ingredient prep: A bowl and a sink are all you need to solve your cold egg problems!
Samantha also suggests an even quicker (and easier!) way of bringing your eggs to room temperature: Just crack them into a bowl and let them warm up on their own. Samantha says this method "seems to warm them up even quicker," so if you're in a pinch you can simply crack your eggs, set them aside in a bowl and they'll be ready to go by the time you have to add them into the batter. There's nothing better than a simple solution, and this is probably as simple as it gets.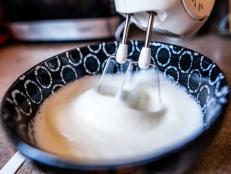 Master chocolatier Jacques Torres has a few tricks up his sleeve for warming cold eggs.