Bake something new for your breadbasket.
1. Choose your flour. Measure 2 1/2 cups total, using at least 1 1/2 cups all-purpose flour.
All-purpose flour
Whole-wheat flour
Rye flour
Cornmeal (use no more than 1/2 cup)
2. Pick your mix-ins. Choose from one or both groups. (For plain biscuits, skip this step.)
Group A (up to 2 types; 1/2 cup each)
Cheddar, Jack or Havarti cheese, grated
Parmesan cheese, grated
Bacon, cooked and crumbled
Scallions, sliced
Olives, pitted and chopped
Pumpkin puree
Nuts, chopped
Dried fruit, chopped if large
Group B (up to 2 types; 1/4 cup each)
Pickled hot peppers, drained and chopped
Seeds (pepitas, poppy, sesame or sunflower)
Chives, parsley or dill, chopped
Rosemary, thyme or sage, chopped (use no more than 2 tablespoons)
3. Make the biscuits.
Preheat the oven to 425 degrees F. Combine the flour(s), 2 tablespoons baking powder, 1 tablespoon sugar and 1 1/2 teaspoons kosher salt in a food processor and pulse until combined. Add 1 stick diced cold butter and pulse until the mixture looks like coarse meal with pea-size bits of butter. Add your mix-ins, then add 1/2 teaspoon finely grated lemon or orange zest, if desired.
Add 1 cup buttermilk or whole milk to the food processor. Pulse a couple of times until the dough just comes together. Turn out onto a floured surface and pat into a 5-by-10-inch rectangle, 3/4 inch thick. Fold in half and pat out again; repeat. Cut out with a floured 2 1/2-inch biscuit cutter; reroll the scraps and cut out more biscuits.
Arrange the biscuits on a baking sheet; brush the tops with milk. Bake until golden, 12 to 15 minutes. (Makes 10 to 14.)
(Shown above: Pumpkin-Pepita, Cranberry-Walnut, Lemon-Poppy Seed, Cheddar-Chive, Bacon-Sage, Olive-Rosemary)
Photograph by Steve Giralt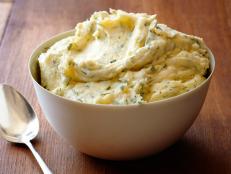 Give the essential side dish a new spin with this step-by-step guide from Food Network Magazine.