Total:

2 hr 10 min

Active:

45 min
Total:

2 hr 10 min

Active:

45 min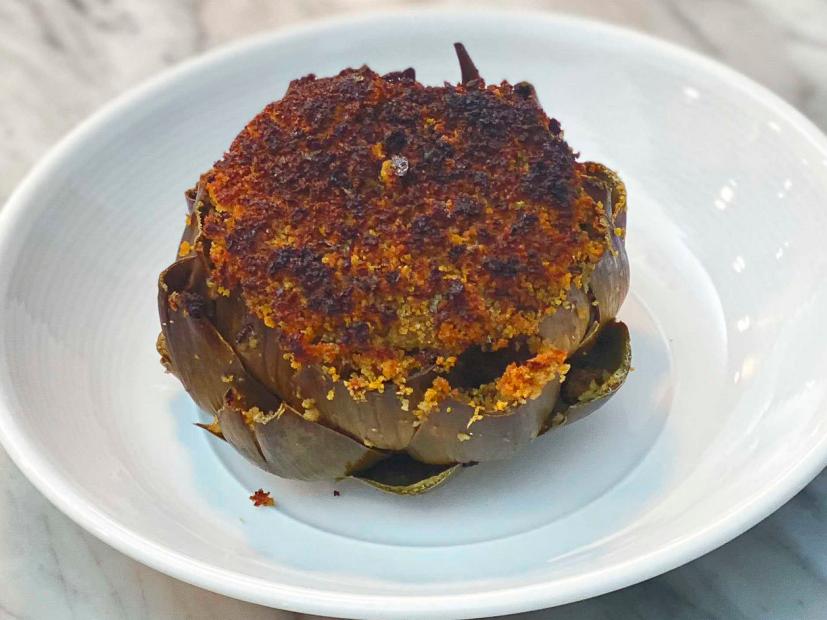 Preheat the oven to 375 degrees F.
Add the breadcrumbs, parsley, garlic, anchovy, chile flakes and 1/2 teaspoon salt to a large bowl. Finely grate the zest of 1 lemon into the bowl. Squeeze the juice of the lemon in a small bowl with the oil, then drizzle the lemon juice mixture into the breadcrumb mixture and mix with a fork until well combined and the mixture resembles wet sand. Stir in the Parmesan and set aside until ready to use.
Fill a large bowl with ice water. Squeeze in the juice of 1 lemon and drop in the lemon halves. Working with 1 artichoke at a time, cut off all but 1/2-inch of the stem. Use a serrated knife to slice about 1 inch off of the top. Use kitchen shears to trim the point off each leaf, removing 1/4 to 1/2 inch. Use your fingers to gently pull open the center leaves of the artichoke then use a spoon to scoop out and discard the fuzzy choke in the middle. (Note that removing the choke takes some effort and will make eating the final product much more enjoyable.) Submerge the cleaned artichoke in the lemon water to prevent browning and repeat with the remaining artichokes.
Working with one artichoke at a time, remove from the water and use a clean kitchen towel to pat dry. Gently pull apart the leaves on each layer and stuff with the breadcrumbs over the bowl to avoid a mess, pressing lightly as you stuff (you will use about 2/3 cup stuffing per artichoke). Gently set the stuffed artichoke in a 9-by-9-inch casserole dish (do not use glass) or a large cast-iron skillet, standing it up on the flat stem if possible, or gently resting on the side if not. Note that you will want the artichokes to be snug in the dish to remain upright during baking. Repeat with the remaining artichokes and breadcrumbs.
Pour the wine and 1/2 cup water into the bottom of the pan. Slice the remaining lemon into rounds and nestle them into the liquid. Tightly cover the dish with foil and bake until the artichokes leaves are tender and can be easily pulled off, 60 to 75 minutes. Remove the dish from the oven and increase the temperature to 500 degrees F.
Remove the foil and return the dish to the oven. Bake until the breadcrumbs are golden brown and crisp, 5 to 8 minutes. Remove the artichokes from the dish with tongs and place onto a serving plate. Serve with the cooking liquid lemon slices.