Mix and Match Pasta Salad
Design your perfect picnic dish. This recipe leads to thousands of combinations!
1. Choose a Pasta
Bring a pot of salted water to a boil. Cook 1/2 pound of any of these pastas as the label directs; drain and rinse under cold water. Transfer to a large bowl.

2. Pick a Protein (Optional)
Add 1 cup of any of these ingredients, if desired.
Chicken, cooked and chopped
Steak, cooked and chopped
Ham or salami, cubed
Roast beef, chopped
Canned tuna, drained and flaked
Lump crabmeat, picked over
Shrimp, cooked and chopped
Eggs, hard-boiled and chopped
Baked tofu, chopped

3. Pick Your Vegetables
Add 2 of these vegetables or beans, 1 cup each. (To blanch vegetables, boil until crisp-tender, then drain and cool in ice water.)
Broccoli florets, blanched
Corn kernels, blanched
Carrots, shredded
Cherry tomatoes, halved
Green beans, blanched and chopped
Frozen peas or snap peas, blanched
Celery, sliced
Cucumber, diced
Red onion, diced
Bell pepper, diced
Asparagus, blanched and chopped
Canned chickpeas or white beans, drained and rinsed
4. Pick a Mix-In
Add 1/3 cup of any of these ingredients.
Sun-dried tomatoes, chopped
Roasted red peppers, chopped
Olives, pitted and chopped
Any cheese, shredded or crumbled
Any nut, toasted and chopped
Bacon, cooked and crumbled
5. Dress the Salad
Make one of these dressings, then pour over the pasta salad and toss. Season with salt and pepper. Chill for up to 3 hours.

Vinaigrette

Whisk 1/3 cup olive oil, 2 tablespoons white wine vinegar, 1 minced shallot, 1/2 teaspoon salt, and pepper to taste.

Creamy Herb

Whisk 1/3 cup mayonnaise, 3 tablespoons sour cream, 1 1/2 tablespoons lemon juice, 1/2 cup chopped mixed herbs, and salt and pepper to taste.

Garlic Oil

Cook 3 thinly sliced garlic cloves and a pinch of red pepper flakes in 1/3 cup olive oil over medium heat, stirring, 3 minutes; let cool. Season with salt and pepper.

Creamy Parmesan

Mix 1/4 cup each mayonnaise and sour cream, 1 tablespoon lemon juice, 1/4 teaspoon finely grated garlic, 3/4 cup grated parmesan, and salt and pepper to taste.

Design your own dinner, or try one of our ideas:
Create your own version of the classic Italian summer side: panzanella.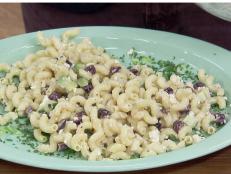 If you're tired of your favorite pasta salad recipe, jazz it up by following these simple guidelines.