6 Surprising Ways to Use Kefir
Kefir is versatile in the kitchen and can be enjoyed in a variety of everyday recipes.
Pronounced "keh-FEAR" , this fermented milk drink is expanding in the yogurt aisle. It has vitamins A and D and calcium in amounts comparable to those in milk, making it a good way to help get your daily recommended servings of dairy. Kefir is brimming with gut-friendly bacteria, which help keep your intestines happy. It's versatile in the kitchen and can be enjoyed in a variety of everyday recipes. Try it these seven ways.
Kefir can be used in creamy dressings in place of yogurt, buttermilk or sour cream. Use it in homemade ranch dressing or in a spicy combination of garlic, cayenne and cumin.
Cut back on calories while getting a healthy dose of tummy-pleasing probiotics by replacing part of the mayo or yogurt in summer favorites like broccoli, pasta and potato salads.
Blend kefir with your favorite fruits and a touch of sweetener like honey or agave, and freeze in ice-pop trays for a delicious frozen treat.
Substitute kefir for the milk in homemade ice cream or frozen yogurt for a cool, tangy treat. Complement with delicious fruit like strawberries or bananas.
Strain kefir through cheesecloth or a coffee filter over a bowl overnight to allow the whey to drip out. The result is a thicker, creamier kefir that can be spread on whole-grain bread or crackers. For a creative spin, stir in savory flavors like chives, rosemary or olives, or sweet flavors like strawberries, honey or vanilla extract.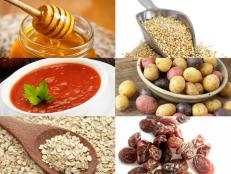 One mom shares her six pantry must-haves, plus her favorite recipes for putting those goods to work.