Cleaning grill grates before or after grilling is a must: This helps prevent food from attaching and keeps leftover grit from sticking to your food. All grills should be cleaned at the start of the season to keep everything in tip-top shape.
A dirty grill may produce smoke that will alter the taste of your food. Follow these steps on an annual basis to ensure that doesn't happen. Clean the grates with a wire brush every time you grill (when grates are hot) to make yearly cleaning easier. Always check the manufacturer's instructions before beginning any cleaning.

Step 1: Disconnect the gas line. Fill a bucket with warm soapy water.

Step 2: Remove the grates, then brush them clean using a wire brush. (For a charcoal grill, brush out the insides, then jump to Step 4.)

Step 3: Remove the barrier separating the grate and burners — this is usually a flame shield, briquettes or lava rocks. Unclog the burner holes using a soft wire brush. Brush away any ash or residue, then set the burner back into place. Wash the flame shield in warm soapy water, or brush the briquettes or lava rocks clean.

Step 4: Use a stiff wire brush and soapy water to scrub the inside surfaces of the grill. Rinse with clean water and dry with a cloth.

Step 5: Heat the grill for at least 10 minutes before grilling.

Make these dishes on a clean grill: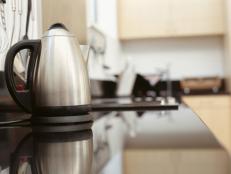 Follow these easy steps for cleaning stainless steel kitchen appliances that sparkle like new.