Level:

Easy

Total:

3 hr 30 min
Level:

Easy

Total:

3 hr 30 min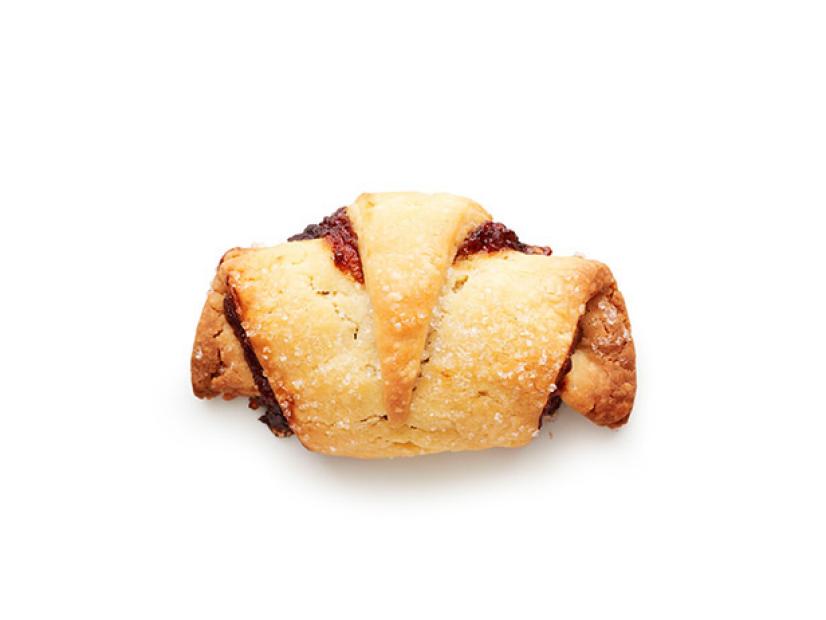 Pulse the cream cheese, granulated sugar, both extracts and 1/2 teaspoon salt in a food processor until smooth. Add the flour and butter; pulse until the butter is in pea-size pieces. Divide the dough into 3 pieces; pat into disks and wrap in plastic. Chill 1 hour.
Make the filling: Put the dried cherries and 1/4 cup water in a microwave-safe bowl; cover with plastic wrap and pierce with a knife. Microwave 5 minutes, then uncover and let cool. Transfer to the food processor; add the jam, cinnamon, allspice and the remaining 1/4 teaspoon salt and pulse to make a paste.
Let the dough soften slightly at room temperature. Roll out each piece between floured parchment into a 9-inch round; transfer to the freezer while you roll out the next one.
Spread 1/2 cup filling on each dough round in a ring, leaving a 1/2-inch border and a 2-inch circle in the center. Using a sharp knife, cut each round into 12 wedges. Starting at the wide end, roll each wedge toward the point. Arrange 2 inches apart on the baking sheets; refrigerate until firm, about 30 minutes.
Position racks in the upper and lower thirds of the oven and preheat to 350 degrees F. Brush the rugelach with the milk and sprinkle with sanding sugar. Bake, switching the pans halfway through, until golden, 30 minutes. Transfer to racks to cool completely.