Level:

Easy

Total:

30 min
Prep:

15 min

Cook:

15 min
Yield:

4 servings

Nutrition Info

Nutritional Analysis

Per Serving

Calories

813

Total Fat

48 grams

Saturated Fat

23 grams

Cholesterol

155 milligrams

Sodium

1,889 milligrams

Carbohydrates

43 grams

Dietary Fiber

3 grams

Protein

52 grams
Level:

Easy

Total:

30 min
Prep:

15 min

Cook:

15 min
Yield:

4 servings

Nutrition Info

Nutritional Analysis

Per Serving

Calories

813

Total Fat

48 grams

Saturated Fat

23 grams

Cholesterol

155 milligrams

Sodium

1,889 milligrams

Carbohydrates

43 grams

Dietary Fiber

3 grams

Protein

52 grams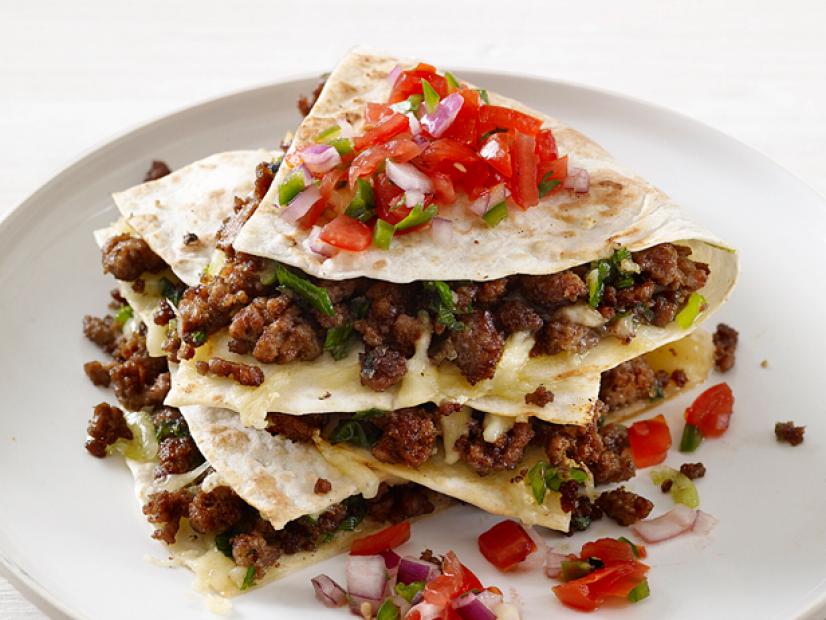 Heat the olive oil in a large skillet over medium heat. Add the garlic and chili powder and cook 1 to 2 minutes. Add the beef, oregano, 1 teaspoon salt, and pepper to taste. Cook, breaking up the meat with a spoon, until it is no longer pink, about 2 minutes. Add the scallions and cook 5 to 6 more minutes.
Heat a large griddle or skillet over medium heat. Brush 1 side of each tortilla with olive oil. Place 2 tortillas on the griddle (or 1 if using a skillet), oiled-side down, and scatter about one-quarter of the cheese on each. Cook until the bottoms are golden brown and the cheese is melted. Put about a quarter of the beef mixture on half of each tortilla and fold into a half-moon. Continue to cook until the quesadillas are crisp, turning once. Repeat to make 4 quesadillas.
Cut into wedges and top with salsa and/or sour cream.