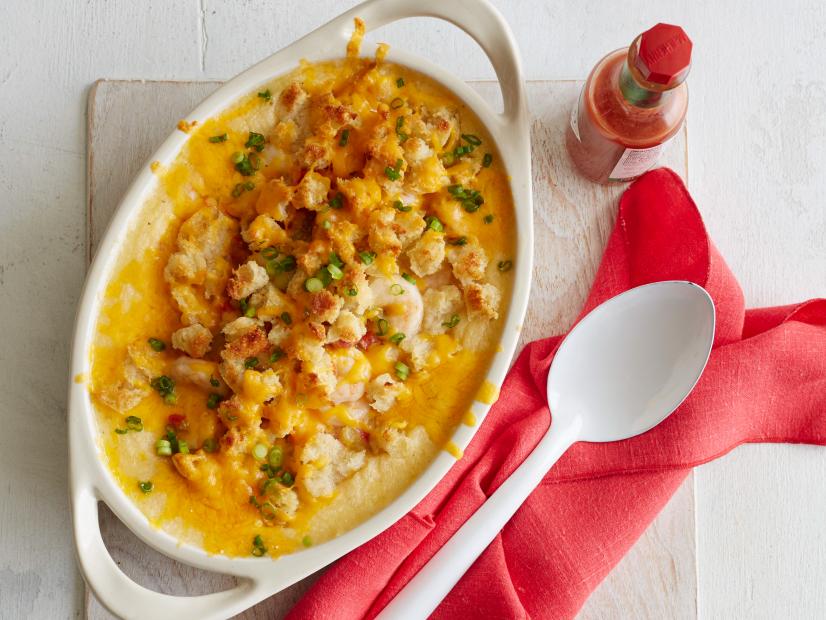 Preheat the oven to 375 degrees F. Bring 1 1/2 cups water to a simmer in a large saucepan.
Meanwhile, add the grits, 1/2 cup of the Cheddar, 2 tablespoons of the butter and a few grinds of black pepper to a 2-quart casserole dish. Pour in the simmering water, and whisk until there are no lumps.
Toss the shrimp with 1/4 teaspoon salt in a medium bowl; set aside. Melt 2 tablespoons of the butter in a large skillet over medium heat. Add the bread and a pinch of salt to the butter, toss quickly to coat, then transfer to a small bowl; set aside.
Wipe out the skillet, and melt the remaining 2 tablespoons butter over medium heat. Add the scallions (reserve 1 tablespoon for garnish), andouille, celery, bell pepper and garlic, and cook, stirring occasionally, until the celery and bell pepper soften, about 8 minutes. Sprinkle in the flour, stir for 1 minute, then add the chicken broth, Worcestershire sauce, hot sauce, lemon juice, 1/2 teaspoon salt and 1/8 teaspoon black pepper. Scrape up the flavorful bits stuck to the bottom of the pan with a wooden spoon. The mixture should come to a simmer quickly, then remove from the heat and stir in the shrimp. Immediately spread the shrimp mixture evenly over the grits in the casserole dish. Top with the bread and the remaining 1/2 cup Cheddar.
Bake the casserole until the shrimp is opaque and cooked through and the top is golden, 20 to 25 minutes. Sprinkle with the reserved scallions. Serve with extra hot sauce on the side.
Be sure to use instant grits, which take 1 minute to cook (and commonly come in individual 1-ounce packets), not quick-cooking grits, which take 5 minutes.