Level:

Easy

Total:

1 hr 34 min
Prep:

15 min

Inactive:

1 hr 15 min

Cook:

4 min
Level:

Easy

Total:

1 hr 34 min
Prep:

15 min

Inactive:

1 hr 15 min

Cook:

4 min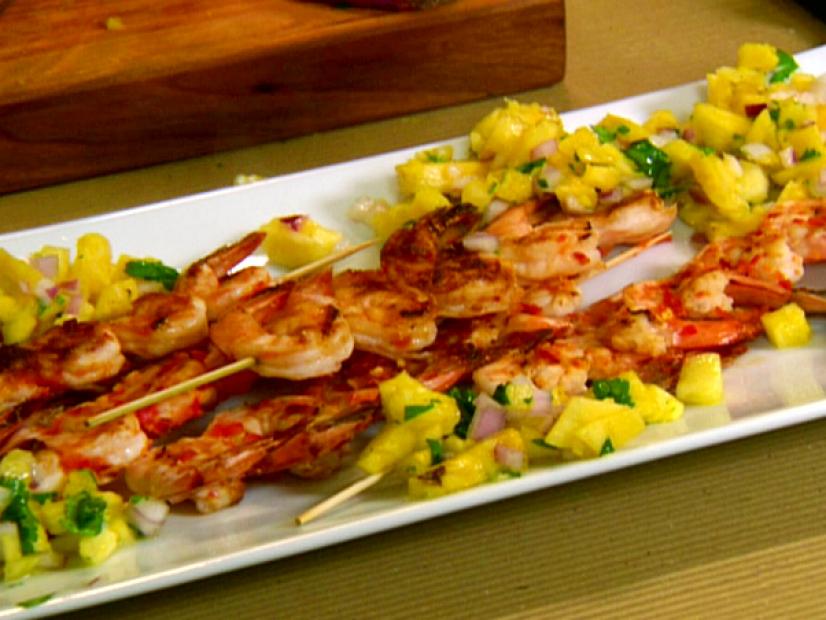 *Cook s Note: If using dehydrated chiles soak them in warm tap water for 1 hour or till soften (this is usually only take 20 minutes, but I found with the smaller chiles, like the red Thai, that is take about an hour or so to fully rehydrate).
Place both the red Thai chiles and the bell peppers in a blender or food processor and pulse until smooth. Transfer chiles to a large mixing bowl and add the sugar, orange zest, rice wine vinegar, honey, salt, ginger and coriander and mix together thoroughly.
Skewer shrimp and place in a large casserole dish. Pour the marinade over the shrimp, cover with plastic wrap and place in the fridge to marinate for 15 minutes.
Preheat your grill while your shrimp is marinating.
Remove shrimp from fridge and grill over medium high heat for about 1-2 minutes per side. Glaze with the marinade the last minute of grilling. Remove to a platter and sprinkle with sesame seeds.
Pineapple Ginger Salsa:
Peel, core, and dice pineapple.
In a medium bowl, combine red onion, pineapple, cilantro, lime juice, ground ginger, and salt and pepper. Mix together. Cover and chill.