Total:

50 min

Active:

25 min
Total:

50 min

Active:

25 min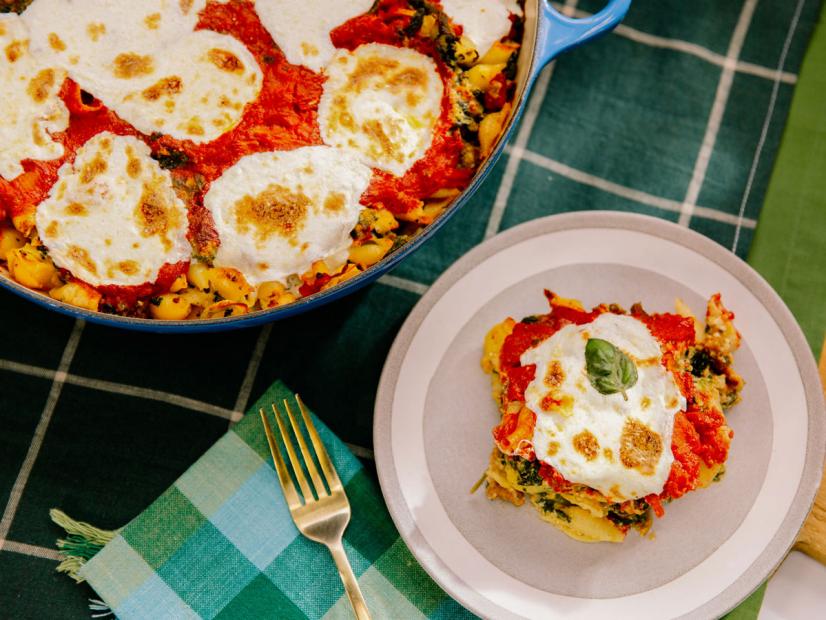 Preheat the oven to 375 degrees F.
Bring a medium pot of salted water to a boil. Add the pasta to the boiling water and cook until al dente according to the package directions. Drain and set aside.
Add the tomatoes to a large bowl and use your hands to crush them into chunky pieces; set aside.
In a 12-inch skillet over medium-high heat, add the oil. Add the sausage and brown in large chunks until no pink remains, 5 to 8 minutes. Set aside on a paper towel-lined plate. Wipe out the fat from the skillet, leaving about 1 tablespoon behind. Add about a third of the tomatoes to the skillet and stir to pick up any remaining browned bits. Set aside.
In another large bowl, add the spinach, ricotta, Parmesan, shredded mozzarella, egg, garlic, nutmeg and 1 teaspoon each salt and pepper. Mix to combine. Add the cooked pasta and sausage and gently mix.
Add the pasta and sausage mixture to the skillet. Top with the remaining tomatoes and then the sliced mozzarella. Bake, uncovered, until heated through and the cheese is bubbling, 20 to 25 minutes. Garnish with torn basil before serving.