Total:

50 min

Active:

25 min
Total:

50 min

Active:

25 min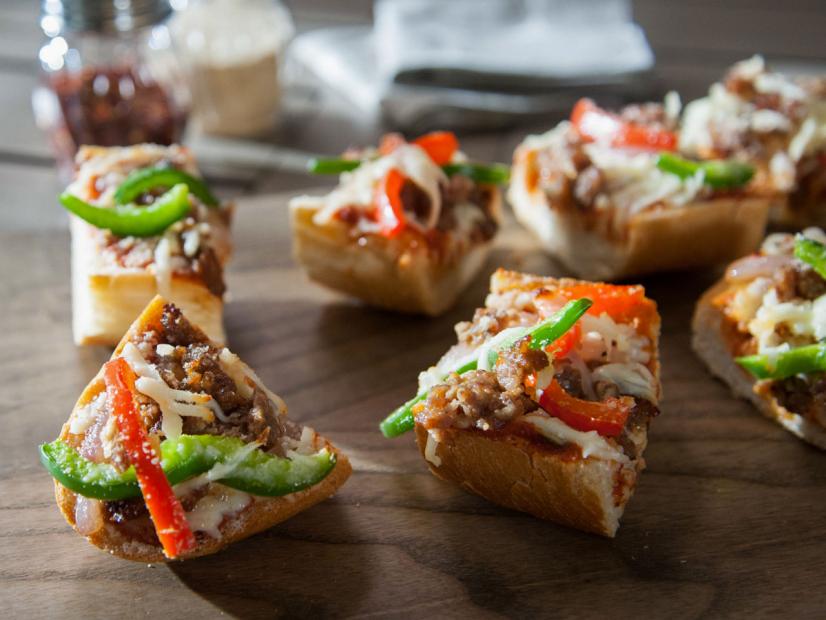 Preheat the oven to 375 degrees F with one rack positioned at the bottom of the oven and another at the top.
Cook the sausage in a medium skillet over medium-high heat, breaking up any clumps with a wooden spoon, until some of the fat has rendered and the sausage is brown, 6 to 8 minutes. Add the onions and cook, stirring occasionally, until slightly softened, about 2 minutes.
Meanwhile, add the pizza sauce, garlic and thyme to a small saucepan. Heat over medium heat to let the flavors infuse while the sausage and onions cook.
Line a rimmed baking sheet with parchment and arrange the bread on top, cut-side up. Spread the tops evenly with the pizza sauce, then sprinkle with the mozzarella. Divide the sausage mixture among the bread pieces, then top off with the green and red bell peppers and Parmesan.
Bake on the bottom rack of the oven until the bread is crisp and the cheese is melted, about 10 minutes. Increase the oven temperature to 450 degrees F and move the baking sheet to the top rack. Continue to bake until the cheese is bubbling and the peppers are browned in spots, about 7 minutes.
Serve immediately with crushed red pepper flakes and granulated garlic on the side.