Total:

9 hr 10 min

(includes resting time)

Active:

10 min
Total:

9 hr 10 min

(includes resting time)

Active:

10 min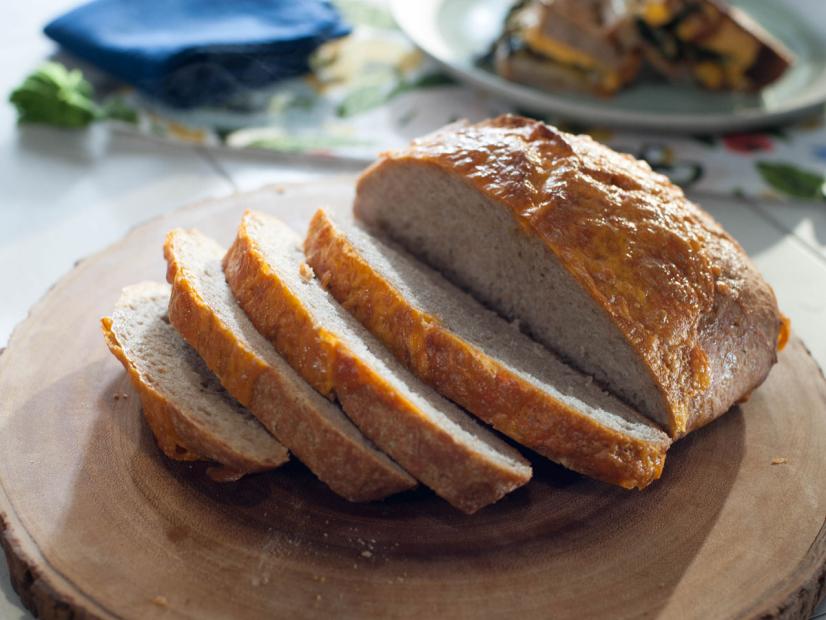 In a large mixing bowl, whisk together the flours, salt and yeast. Pour in the warm water and combine with a spatula until the dough becomes shaggy or sticky. Cover the bowl with plastic wrap and place in a warm area for at least 8 hours and up to 24 hours.
Preheat the oven to 450 degrees F. Place a 5.5-quart enameled Dutch oven inside while preheating.
Generously flour the work surface. Scrape the dough onto the floured surface and pull or fold into a round. Place on a sheet of parchment paper.
Remove the Dutch oven, lift the edges of the parchment paper and carefully lower the bread and paper into the Dutch oven. Place the lid on top and bake, covered, until the bread is slightly browned and takes shape, about 40 minutes. Remove the lid and sprinkle the cheese in the center of the loaf. Return to the oven and bake until the cheese is golden brown and the outside of the loaf is hard, about another 20 minutes.
Remove the bread from the Dutch oven and allow to cool completely before slicing.