Our Guide to Celebrating Christmas in Denver
This laid-back Rocky Mountain city is the ideal spot for a holiday getaway.
If you made a list of things you'd want to find in a wintry destination, Denver would likely have them all: snowy mountaintops, a vibrant arts and music scene and cozy restaurants for gathering with friends and family on chilly days. While this city already has a storied food history — locals claim it's the birthplace of the cheeseburger — over the past few years the dining scene has exploded, with neighborhoods like RiNo and Five Points leading the way. Here's how to make the most of a trip to the Mile High City.
No trip to Denver is complete without grabbing a few delicious bites. Here are the spots you cannot miss.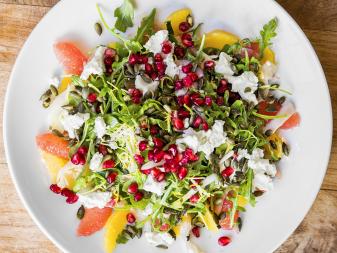 Denver Central Market
You'll find some of Denver's best lunch spots — including Green Seed, home to this pomegranate salad — at this buzzing food hall, one of nine that have opened in recent years. Denver Milk Market is also a must-see.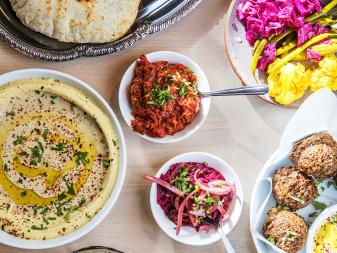 Safta
The owners of this bright Israeli restaurant learned how to cook from their grandmothers, and paintings of the two matriarchs hang in the dining room. Wood-fired pita and lamb ragu hummus make a comforting midday meal.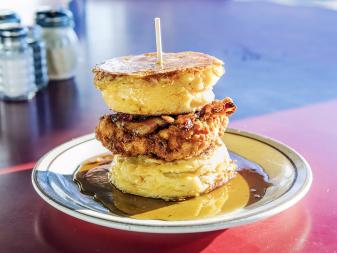 Denver Biscuit Company
Come hungry: The biscuits here are the size of dinner plates, and they're served with bottomless coffee. Try the Lola — fried chicken, bacon and honey butter sandwiched between French toast biscuits.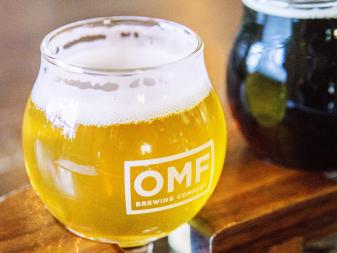 Our Mutual Friend Brewing
Most of the beers at this brewery are made from Colorado ingredients, including the hops and barley. The tap list is extensive and changes frequently, so if you're unsure of what to order, go with a perennial crowd-pleaser: Dad's Brown Ale.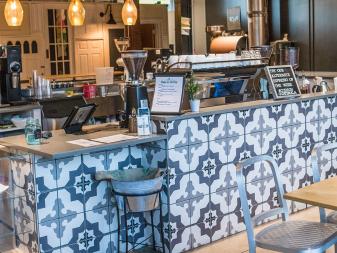 Copper Door Coffee
This local roaster and coffee chain is completely owned and operated by women.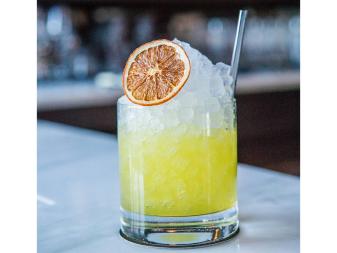 Death & Co.
If you tire of exploring all of the craft breweries in the RiNo neighborhood, stop into The Ramble Hotel for something different: Here you'll find the Denver outpost of New York City-based cocktail bar Death & Co.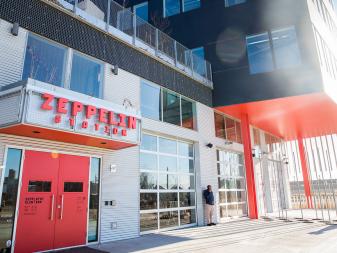 Zeppelin Station
This new food hall is situated at the foot of the new A-Line light rail station — just a few minutes ride from downtown Union Station. Their 10 vendors have an emphasis on international cuisine and handmade gifts, including a "Made in a City" pop-up space that highlights a different destination every three months: previous tenants include Mexico City and Portland, OR.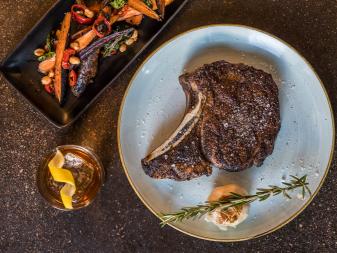 Citizen Rail
The star of this contemporary steakhouse is an open kitchen with a custom wood-fired gril — nearly everything on the menu is cooked over the open fire, including the oysters and veggies. Next to the kitchen you'll find a dry-aging room where all kinds of meats are matured for at least 28 days before they're served: venison, pork and rabbit are just a few of the options you might find. The pride of the dry-aging room is the massive 48 ounce Tomahawk — it's meant for two to share, but some brave diners have attempted to finish it on their own.
Santa himself wouldn't be able to resist these fun and festive seasonal sights.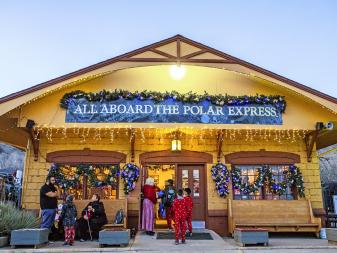 Ride a Historic Steam Train
Kids can put on holiday PJs and pretend they're heading to the North Pole on the Polar Express. Colorado Railroad Museum actors serve cocoa and retell the popular story during the ride. December 1, 4–8, 11–15 and 17–23. Tickets start at $60.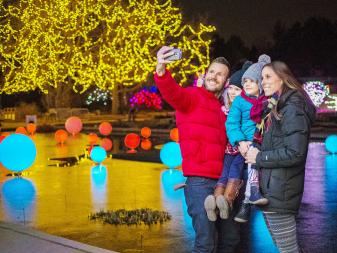 See Spectacular Lights
The Denver Botanic Gardens turn into a magical, sparkling paradise during the annual Blossoms of Light event. More than 1 million lights cover the grounds! November 29–January 3. Tickets start at $16.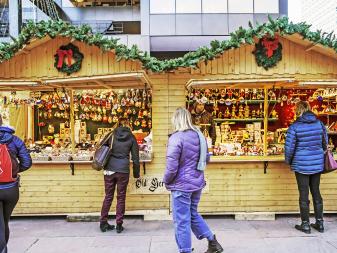 Find One-of-a-Kind Gifts
At Christkindl Market, Colorado's take on a German Christmas market, vendors peddle mulled wine and smoked meat — along with a few modern additions, like CBD. November 22–December 23.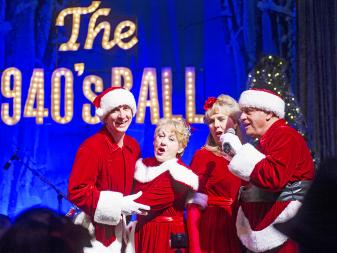 Dance the Night Away
One night a year, the Hyatt Regency throws a holiday ball and transforms into a scene from the classic movie White Christmas, with vintage cars, performers in period dress and big-band music. December 7. Tickets start at $67.
These attractions are so beautiful and breathtaking, you'll think you're in a postcard.
Winter Park
Head to Union Station and hop on the Ski Train, a line that runs seasonally from Denver's city center to Winter Park Resort. The trip takes about two hours, the skiing is great and the views of the soaring Flatirons above Boulder are spectacular. From $29.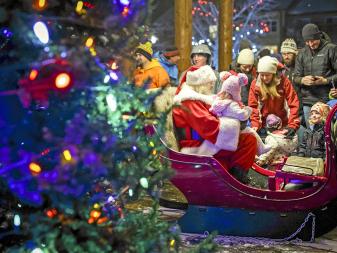 Frisco
During Wassail Days in this mountain town (just an hour and a half by car from Denver), more than 65 businesses serve their take on wassail, a hot mulled cider. Listen to carolers while you taste as many as you can. November 30–December 8.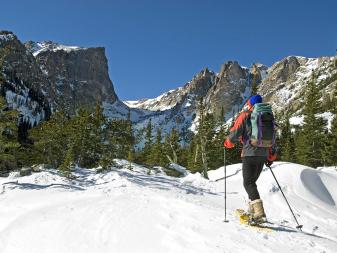 Estes Park
This village is the gateway to Rocky Mountain National Park, which has more than 300 miles of trails, plus snowshoeing, cross-country skiing and sledding. It's about an hour and a half from Denver by car.
Warm, cozy and decorative, you'll wish you could stay in these hotels all year long!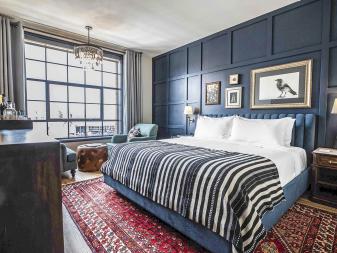 The Ramble Hotel
Tucked among galleries and breweries in Denver's trendy RiNo neighborhood, this 50-room boutique hotel is perfect if you want to be in the center of the action. From $259 per night.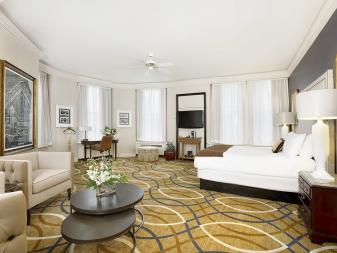 Brown Palace Hotel
Known for impeccable service, this historic hotel hasn't closed once since opening in 1892 — even when the blizzard of 1913 dropped more than 45 inches of snow. Stop by the bar for afternoon tea and snap a pic under the 12-foot Christmas tree. From $300 per night.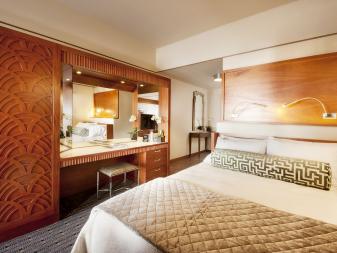 The Crawford Hotel
This hotel takes up the top three floors of Union Station, Denver's recently restored downtown hub. Grab a drink at Terminal Bar, built around the station's old ticket windows, then settle into a sleeper car–inspired room. From $259 per night.
Photograph of carolers by Joe Kusumoto.
Photograph of Estes Park by Getty Images.
All other photos by Julia Vandenoever.