The Roasted Veggie Plan: Foolproof Prep + 10 Creative Uses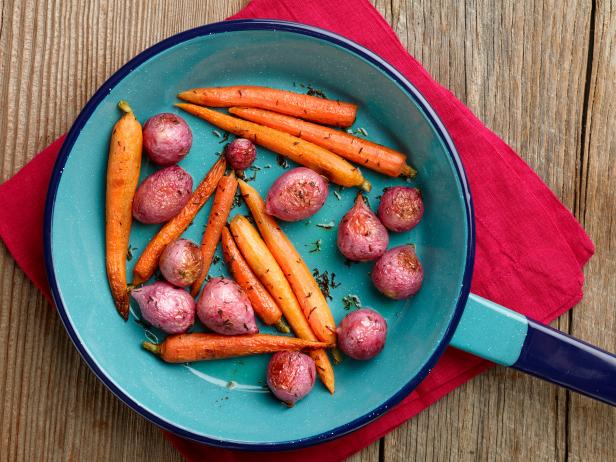 MelissadArabian_RoastedRadishesandCarrots_H
Chef Name: Melissa d'Arabian Full Recipe Name: Roasted Radishes and Carrots Talent Recipe: Melissa d'Arabian's Roasted Radishes and Carrots, as seen on Ten Dollar Dinners FNK Recipe: Project: Foodnetwork.com, Back to School/Sandwich Central/Dinner and a Movie/Sides Show Name: Ten Dollar Dinners Food Network / Cooking Channel: Food Network
Renee Comet, 2013, Television Food Network, G.P. All Rights Reserved
We all want more time. And we all want to be healthy. So when I develop a strategy that meets both goals, I get excited about sharing it with you. Today I'm sharing my roasted veggie strategy. It's really quite simple: Bake up a tray or two of veggies on the weekend to stick in the fridge and use for recipes all week. Roasting the veggies brings out the vegetables' natural earthy sweetness, and it makes them last for days in the refrigerator, which means you can make up a batch of veggies on Monday to use all week for recipes. You can combine veggies freely, making pretty color combinations or simply leveraging whatever happens to be in your crisper drawer. This is my favorite kind of convenience food — one I make myself.
The ideal number of vegetables for flavor and visual balance is three. But, hey, live large and pick four or streamline down to two — the choice is yours. But I usually pick three vegetables and cut down to bite-size pieces (about 1/2 to 1 inch, depending on the vegetable). For each cup of vegetables, toss with 1 to 2 teaspoons olive oil (or coconut oil for a fun twist) and season with kosher salt and pepper. I divide up my vegetables into hardier, longer-cooking vegetables (List A, below) and softer, quicker-cooking vegetables (List B). Lay any vegetables from List A on a large rimmed baking sheet (line with foil or parchment paper for easy cleanup), and bake at 400 degrees F for approximately 10 minutes. Pull the tray out of the oven, stir the cooking vegetables, then add any vegetables from List B to the tray. Return the tray to the oven and continue cooking until the vegetables are golden and tender, approximately 10 minutes more (depending on the vegetable and cut size), stirring once or twice. Try to keep the vegetables in their own section of the tray so if one veggie starts to overcook, you can easily remove it and return the other vegetables to the oven.
Once the vegetables are cooked, remove the tray from the oven and let the vegetables cool slightly. Gently transfer the vegetables and any juices to a container or bowl to use for recipes. Or freeze your cooked veggies to use in the future (a great way to preserve vegetables that are about to go bad in the crisper drawer).
What to Do with the Roasted Veggies: Your imagination is the limit, but here are 10 ideas to get you started.
1. Serve on top of hot or cold quinoa along with chopped leftover chicken.
2. Stir into brown rice and add Kalamata olives, oregano, feta cheese, red wine vinegar and olive oil for a healthy, hearty brown-bag salad.
3. Pulse in the blender with a raw minced garlic clove, olive oil, Parmesan, toasted pecans and a squeeze of lemon to make a chunky pesto.
4. Toss with hot whole-grain pasta, a bit of starchy pasta water, chopped basil and Parmesan cheese for a roasted primavera pasta.
5. Toss with a little lime juice, ground cumin and chili powder to make a meat-free filling for make-your-own-taco night.
6. Spread on a slab of toasted country-style bread, sprinkle with Gruyere cheese and broil until bubbly (about one minute) for a French-style tartine.
7. Add chopped bacon and cubed sweet potato to the tray and make an oven hash.
8. Mix with preserved lemon and roasted garlic to make a chunky Mediterranean-inspired topping for grilled salmon.
9. If you have any leftovers, chop them up and mix them with some red wine vinegar and a dash of honey to make a homemade relish that will dress up sausages, burgers or burritos. You can also freeze your veggies for easy future recipes.
10. Let's not overlook the obvious: Serve them as a side dish at dinner. Three vegetables means a variety of vitamins represented at the table, and it means your family probably won't get bored.
But the options don't end there. What will you make with your newest convenience food?
Root Vegetables (Beets, Parsnips, Carrots, Turnips)
Mushrooms (Halved If Small or Medium, Quartered If Large)
Zucchini and Summer Squash
Cherry Tomatoes (Halved If Large)