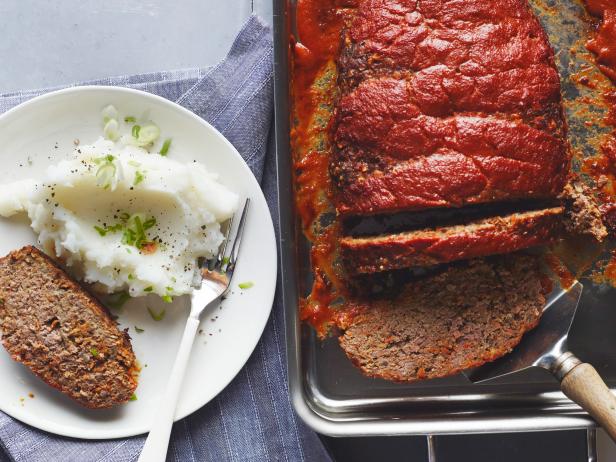 NEW CLASSIC MEATLOAF, Ellie Krieger, Food Network, Olive Oil, Onion, White ButtonMushrooms, Carrot, Tomato Paste, Dried Thyme, Garlic, Quick-­Cooking Oats, Eggs,Worcestershire Sauce, Tomato Sauce, Mustard, Unsulphered Molasses,NEW CLASSIC MEATLOAF, Ellie Krieger, Food Network, Olive Oil, Onion, White Button Mushrooms, Carrot, Tomato Paste, Dried Thyme, Garlic, Quick-­Cooking Oats, Eggs, Worcestershire Sauce, Tomato Sauce, Mustard, Unsulphered Molasses
Matt Armendariz, 2014, Television Food Network, G.P. All Rights Reserved
A go-to comfort food favorite that the whole family will enjoy, meatloaf is a foolproof dish that is as quick to prepare as it is easy on the wallet. Whether you prefer turkey or beef varieties, adding fresh vegetables, spices and a tasty glaze to your meatloaf promises that it will be rich in texture and bold flavors. Check out Food Network's top five meatloaf recipes below and cook up one for dinner tonight.
Quick-cooking oats and molasses are "new" ingredients Ellie adds to her traditional meatloaf recipe, featuring ground beef, button mushrooms and herbs.
Chewy herb-marinated sun-dried tomatoes and tangy feta cheese offer texture and a Mediterranean flair to Giada's easy weeknight meatloaf.
Zucchini and bright bell peppers add pops of color and lightness to Bobby's meatloaf, made with lean ground turkey and panko breadcrumbs.
Ina adds chicken stock and whole eggs to ensure her turkey meatloaf is moist and succulent.
Ten minutes into baking, Alton brushes the top of his combination sirloin-chuck meatloaf (pictured above) with a sweet and sharp honey-ketchup-Worcestershire glaze.