Grilled Shiitake and Tofu Banh Mi — Meatless Monday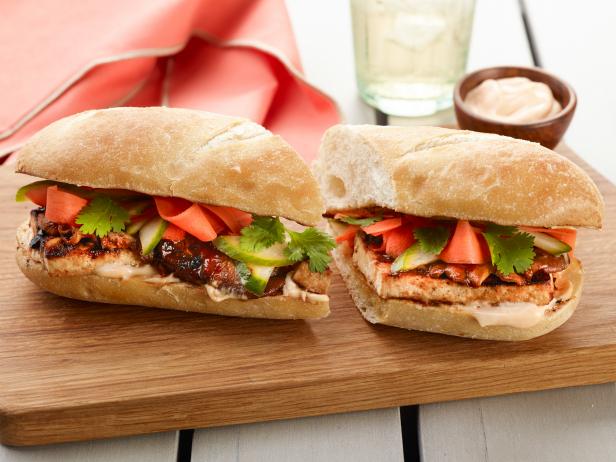 FNK_GrilledShitakeAndTofuBahnMi_H
Chef Name: Food Network Kitchen Full Recipe Name: Grilled Shitake and Tofu Bahn Mi Talent Recipe: FNK Recipe: Food Network Kitchen's Grilled Shitake and Tofu Bahn Mi, as seen on Foodnetwork.com Project: Foodnetwork.com, SUMMER/APPETIZERS/PASTA Show Name: Food Network / Cooking Channel: Food Network
Renee Comet, 2013, Television Food Network, G.P. All Rights Reserved
Chicken, burgers, brats and barbecue may be all the rage on Labor Day, but you don't have to forgo your plans for Meatless Monday on account of the holiday. Celebrate the day with a hearty, satisfying cookout starring tofu instead of traditional meats. If you've never before cooked with tofu, know that while its flavor is plain on its own, tofu can easily adopt the bold tastes of marinades, rubs and sauces. Plus, extra-firm tofu is hearty enough to stand up to high heats, so it's a go-to pick for grilling on this unofficial last day of summer. Try featuring it with barbecue sauce, in tacos or in a next-level take on the classic banh mi sandwich.
Ready to eat in only 35 minutes, Food Network Kitchen's Grilled Shiitake and Tofu Banh Mi (pictured above) is both easy to make and packed with tastes and texture, boasting layer upon layer of earthy mushrooms, fresh produce and a creamy mayonnaise dressing. The secret to flavor in this sandwich lies in the marinade for the mushrooms and tofu, as this sweet and tangy combination features fresh garlic and hoisin sauce. Once the mushrooms are charred and nearly tender, and the tofu slightly smoky, serve them on a toasted roll and finish with a refreshing salad of cool cucumbers and carrots. Be sure to add a mixture of mayonnaise and Sriracha to the roll for a punch of flavor and subtle heat.
Meatless Monday, an international movement, encourages people everywhere to cut meat one day a week for personal and planetary health. Browse more Meatless Monday recipes.