7 Speedy Pasta Dinners to Get You Through Monday Night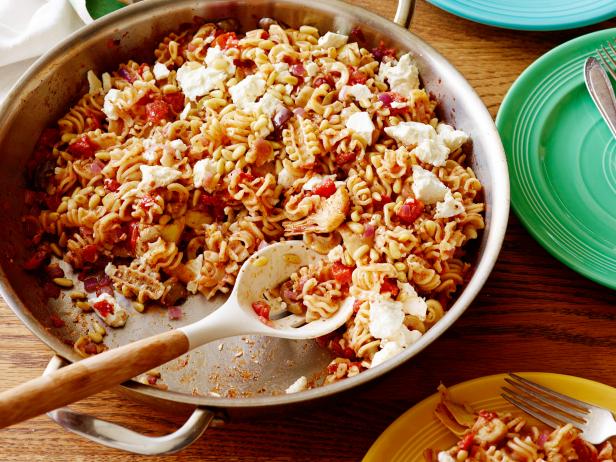 PANTRY PASTARee DrummondThe Pioneer Woman/All Stocked UpFood NetworkRed Onion, Olive Oil, Diced Tomatoes, Chicken Stock, White Wine, Assorted Olives, ArtichokeHearts, Garlic, Salt, Pepper, Pasta, Jarred Pesto, Feta, DrytoastedPine Nuts,PANTRY PASTARee DrummondThe Pioneer Woman/All Stocked UpFood NetworkRed Onion, Olive Oil, Diced Tomatoes, Chicken Stock, White Wine, Assorted Olives, ArtichokeHearts, Garlic, Salt, Pepper, Pasta, Jarred Pesto, Feta, DrytoastedPine Nuts
Matt Armendariz, 2014, Television Food Network, G.P. All Rights Reserved
It's Monday, friends, which means no one has given a single second of thought as to what they're making for dinner this evening. But as long as you've got pasta, olive oil, garlic and a few mix-ins tucked away in your pantry (think Parmesan, canned tomatoes, jarred vegetables, etc.), there's no need to panic — or resort to pricey takeout. Whether you're cooking for yourself, two people or a panel of picky youngsters, these beat-the-clock pasta dishes offer quick and flavorsome solutions to your Monday night dinner obstacles.
As the name suggests, Ree Drummond's skillet pasta won't require a long and expensive trip to the grocery store — just a pantry raid. Canned tomatoes, jarred artichoke hearts and olives, plus some store-bought chicken stock will take the labor out of this quick and comforting weeknight meal.
Rachael Ray tosses al dente pasta and tender cubes of skillet-browned chicken in a buttery white wine sauce for another quick Monday dinner made with basic pantry staples.
This seasonal riff on creamy penne pasta calls for canned pumpkin, sage, heavy cream and fragrant fall spices — all the makings of a rich, autumnal sauce. Although chicken would also work in this dish, the recommended sweet Italian sausage offers a satisfying chew that can't be beat.
Looking for new pasta recipes to try out on your kids? Start off simple with Melissa d'Arabian's 5-ingredient angel hair. The tender pasta and creamy Parmesan are approachable for picky palates, but the fragrant lemon zest topping is an excellent way to introduce them to citrus.
If the lemon zest goes over well, try introducing the kids to spicier flavor notes. Giada De Laurentiis reaches for Calabrian chile paste when making her penne and tomato dish. This spicy concoction of crushed dried peppers and extra virgin olive oil can be found in most grocery stores and keeps well in the pantry.
Puttanesca is the ultimate pantry-raid dinner, with its straightforward list of ingredients that includes spaghetti, tomatoes, garlic, anchovies and briny kalamata olives. Rather than dumping the ingredients onto your cooked pasta, Ree recommends mashing the garlic, anchovies and olives using a mortar and pestle to really release the flavors. It takes a few extra minutes, but it's so worth the effort.
When in doubt, turn to Ree's 15-minute penne tossed with tender chicken, fresh mozzarella and jarred marinara. Once the chicken has browned on all sides, pour your marinara sauce into the skillet and let it simmer. Then add your cubed mozzarella, allowing the cheese to soften and spread.