7 Back to School Food Hacks for Busy Families
One mom shares her go-to tricks for getting food on the table quickly.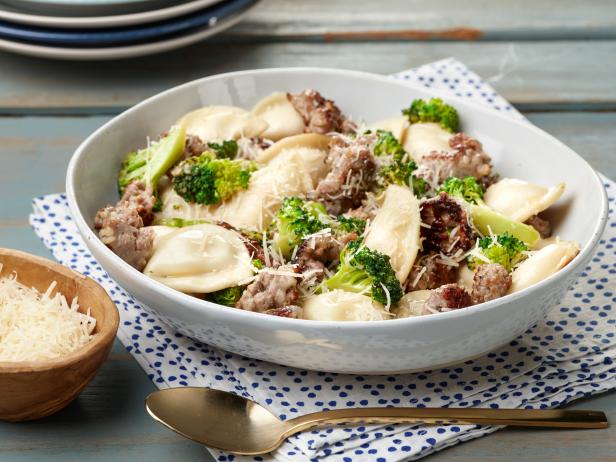 FNK_20_MinuteCrispyPierogiesWithBroccoliAndSausage_H
Chef Name: Food Network Kitchen Full Recipe Name: 20-Minute Crispy Pierogies with Broccoli and Sausage Talent Recipe: FNK Recipe: Food Networks Kitchen's 20-Minute Crispy Pierogies with Broccoli and Sausage, as seen on Foodnetwork.com Project: Foodnetwork.com, Beat the Clock Dinners / Thanksgiving Show Name: Food Network / Cooking Channel: Food Network
Renee Comet, 2013, Television Food Network, G.P. All Rights Reserved
I have four small kids — preschool through third grade — and they're all back in school now. It's nice to have everyone in a routine again, but you can bet your Michael's 40 percent off coupon that it can also be a bit much. Especially for small kids, this season is so hectic that every one of them is about 10 seconds away from tears by the end of the day. When parenting mode kicks into high gear, I need a food plan that nourishes my brood quickly and simply. These are some of my go-to moves.
Yes, frozen veggies are awesome, but don't underestimate the simplicity of a bag of veggies from the produce section either. Butternut squash soup becomes an instant weeknight dinner when you grab a bag of already diced squash. One bag of sugar snap peas becomes a key part of a family favorite: Sugar Snap Peas with Ginger Pork. Baby carrots slide right out of a bag and into the oven for my kids' top-rated side of all time: roasted carrots with maple syrup. No chopping, no peeling, not so much as a rinse under the sink.
Made Dinners with School Lunch in Mind
I wrote about this recently, but it's such a game-changer that I'll throw it in here again. Since our kids are young, they aren't ready to make their own lunches, but for this beginner lesson, I prep and they pack. That means I put together two trays of cut-up fruit and veggies for the week, plus one main (think corn dog muffins, chicken salad sandwiches or cheddar-scallion biscuits) each day. When I set everything out, they fill up their lunch boxes for the next day and store them in the fridge. Done!
Introduce a Snack Rotation
Our kids are supposed to bring a morning snack to school every day, so we've made a compromise that combines convenience with a little wiggle room for packaged treats. I send fresh fruit, homemade muffins or bars on Monday, Wednesday and Friday, then it's "pick your own snack" from the pantry on Tuesday and Thursday. We've got a million bags of crackers, pretzels and nut bars to choose from. And for the fresh days, we're loving a rotation of Ina Garten's Blueberry Coffee Cake Muffins and our No-Bake Chocolate, Fruit & Nut Bars.
Make Breakfast Ahead of Time
On a busy school morning, things run so much more smoothly when I've whipped up overnight chia seed pudding or breakfast burritos in advance. (Maybe it's because we have enough time to look for lost shoes, but whatever. I'm just saying — it works better!) Even trying to do this just a couple times a week has made everything more manageable.
Charity Curley Mathews is a contributor to The Huffington Post, eHow, InStyle.com and shares kid-tested recipes full of fresh ingredients at Foodlets.com: Mini Foodies in the Making…Maybe. She lives in North Carolina with her husband, four kids, two naughty puppies and 60,000 bees.