One-Skillet Recipes for Busy Weeknights
You're only one pan away from a great dinner plan.
Skillet recipes conjure images of bubbling cheese and hearty, warming dishes. But pragmatically, skillet cooking is a one-pan way to get dinner on the table without a ton of cleanup after. Here are six quick, easy and comforting skillet recipes that will win the weeknight.
Though a crave-worthy comfort, lasagna has the reputation of requiring a lot of time to assemble and bake. This skillet lasagna upends the norm, eliminating hassle by calling for jarred marinara sauce, no-boil pasta noodles and frozen veggies that come together on the stove in less than an hour. It's lightened thanks to part-skim cheeses, but still packs plenty of flavor thanks to butternut squash and fresh basil and ricotta.
These cheesy 30-minute enchiladas are a quick, delicious way to use store-bought rotisserie chicken and frozen vegetables — in this case, chopped collards. Before it hits the table, the skillet gets a quick pass under the broiler to crisp up the edges of the tortillas and ensure perfect gooeyness. Finish it off with sour cream, avocado, scallions and cilantro.
How can polenta — that dish that requires constant stirring over a bubbling crock — possibly be a one-skillet recipe? This 40-minute sausage-studded dish calls for slices of prepared polenta to bolster a dish utilizing classic Italian ingredients, including mushrooms, canned plum tomatoes and mozzarella.
This broccoli- and pepper-studded skillet incorporates plenty of great shortcuts without skimping on the flavor. Shredded rotisserie chicken and frozen brown rice get a big aromatic boost from garlic, scallions and cumin. Mixing in prepared salsa verde and shredded cheese bumps up the Tex-Mex flavor with no added prep.
Ready in 35 minutes, Ree Drummond's cozy 12-serving risotto recipe tastes as if it took hours to prepare and relies primarily on pantry ingredients most people have on-hand.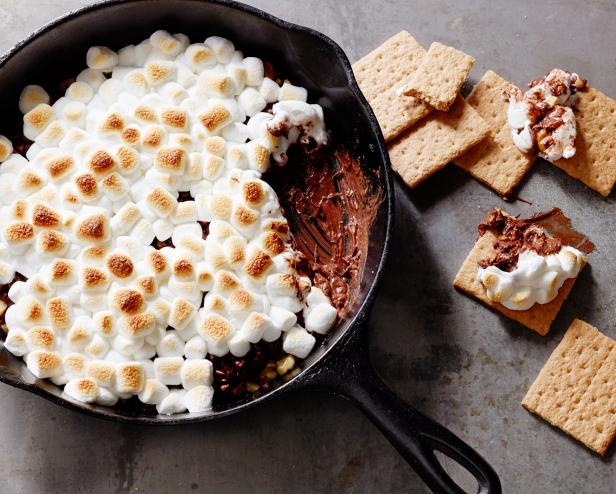 S'MAUROS: SKILLET S'MORESJeff MauroThe Kitchen/Fresh New Food IdeasFood NetworkUnsalted Butter, Walnuts, Mini Chocolate Chips, Mini Marshmallows, Graham Crackers,S'MAUROS: SKILLET S'MORES Jeff Mauro The Kitchen/Fresh New Food Ideas Food Network Unsalted Butter, Walnuts, Mini Chocolate Chips, Mini Marshmallows, Graham Crackers
Matt Armendariz, 2014, Television Food Network, G.P. All Rights Reserved
It may not be summer, but that doesn't mean you can't have s'mores! Jeff Mauro's recipe turns the classic campfire snack into a nutty chocolate and marshmallow dip that you can dig into with graham cracker squares.