This Is the Only Drop Biscuit Recipe You'll Ever Need
It's part scone, part chocolate chip cookie.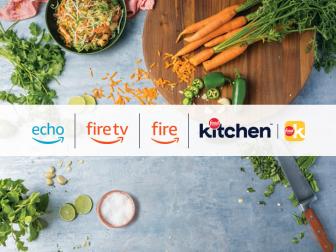 Download Food Network Kitchen to sign up and get access to live and on-demand cooking classes, in-app grocery ordering, meal planning, an organized place to save all your recipes and much more. Own a Fire TV, Fire tablet or Echo Show? You can now get a 1-year complimentary subscription to the app — read here for more details. Terms and conditions apply.
Like many home cooks, I have a really special place in my heart for family recipes. You know the ones I'm talking about — they're usually handwritten on lined yellow paper and contain the secrets behind your mom's pasta sauce or your grandma's Sunday pot roast. You often have to be of a certain age to see them — I'm 27 and my mom still won't let me see her lasagna recipe — and once you finally do, you're expected to keep them secret … for the rest of your life.
Calling it one of her "most baked recipes of all time," Erin's chocolaty drop biscuits are a delicious cross between a crumbly scone and an ooey gooey chocolate chip cookie and make the perfect sweet addition to everything from weekday breakfasts to weekend brunches. Not only will you use budget-friendly ingredients like dark chocolate, flour, brown sugar and salt, you can also make these biscuits completely your own and substitute whatever else you have on hand, like milk chocolate and white chocolate or dried or frozen fruit. And if sweet treats aren't your thing, you can still use this recipe to make savory biscuits — just sub out the chocolate and use grated cheddar cheese, chopped chives, sun dried tomatoes and bacon bits like Erin suggests during the class.
As if that all wasn't enough, another reason I knew I had to add Erin's chocolate chip drop biscuits into my personal recipe trove was because hearing her talk about how her mom made them while she was growing up made me think of all the fun times I've had with my own mother and in our kitchen, especially recently. "This is one of the few recipes I have that is taken from my mom and I didn't make any changes. My mom used to make this recipe and I just loved it," Erin shares.
Though I still live at home with both my parents, hearing about how these biscuits help cheer Erin up whenever she's feeling homesick or missing her mom and dad really spoke volumes to me. Just like Erin, whenever I've been down about something, trusted family recipes from my mom have always been there to cheer me up and instantly make me feel better. With Mother's Day just a few short days away, I honestly can't think of a better way to celebrate my mom and all she's done for me than by following Erin's lead and whipping together a batch of these delicious biscuits for our very own mother-daughter brunch.
At least this year one thing's for sure — I won't need to worry about getting a last-minute reservation.