Octopus and Improvisation on the Next Iron Chef — Critical Moments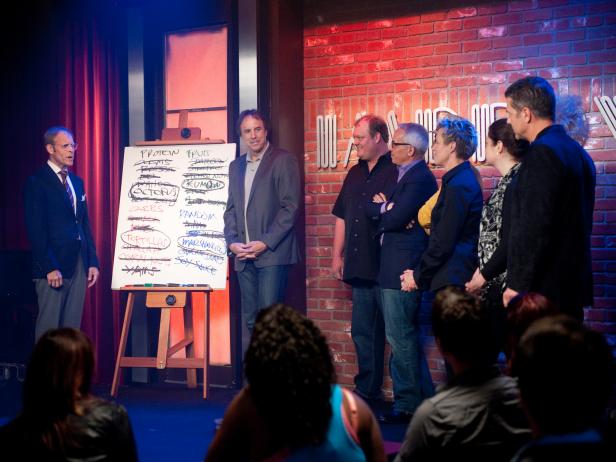 NIC4 Episode 4 Chairman's Challenge
Host Alton Brown and Guest Host Kevin Nealon asking the audience for ingredient suggestions for the Chairman's Challenge "Improvisation" at the Hollywood Improv as Rival-Chef Beau MacMillan, Rival-Chef Geoffrey Zakarian, Rival-Chef Marcus Samuelsson, Rival-Chef Elizabeth Falkner, Rival-Chef Alex Guarnaschelli, Rival-Chef Anne Burrell and Rival-Chef Michael Chiarello watch in Episode 4 as seen on Food Network Next Iron Chef Season 4.
Edward Chen/Creel Films, 2011, Television Food Network, G.P.
Great chefs don't just work from recipes. The very best can take disparate ingredients and turn them into something unexpected and often magical. I have witnessed this many times in Kitchen Stadium, but this was the first opportunity for the judges to see if the remaining seven chefs had enough improvisational chops to hang with chefs of the Iron variety.
A seemingly innocent trip to a comedy club ended up not only in an encounter with Saturday Night Live legend Kevin Nealon, but also with an ingredient list for the Chairman's Challenge that would test any chef in the world to their absolute limits. The bemused combatants were informed they would have to create a single dish that included the unlikely bedfellows of marshmallows, kumquats, tortillas and octopus. That they were able to create even vaguely edible dishes from these ingredients cemented their status as superstars. The fact that some chefs were able to produce dishes that were among the best of the whole competition was even more remarkable.
Chef Chiarello's heart may be firmly rooted in Italy, but he proved he is definitely no one-trick pony with a superbly executed dish based around a Spanish-style tortilla. I had raised an eyebrow when he told us that he was inspired by the country closest to my heart, but the fact that his dish really captured Spain on a plate placed him firmly at the top of my list. When my points were added to those of my companions, he narrowly came out as this week's winner.
Chef Burrell's ravioli may have looked simple, but there was nothing simple about the explosions of flavor it delivered with each mouthful. As Iron Chef Symon pointed out, it takes tremendous skill to make something that looks so plain and yet still manages to wow the judges. Chef Burrell's deceptive dish certainly did.
Chef Falkner's creation impressed the other two judges more than it did me. While I could definitely see the skill involved and thought there were some new and unusual ideas (marshmallow ash, anyone?) the plating was, quite frankly, a bloody mess. Judy Joo may have been able to see order in the chaos, but even after staring at the plate for a while, all I saw was chaos in the chaos.
Chef Samuelsson probably should have served his dish with a set of instructions. However, while I had expressed reservations over his presentation at earlier stages of the competition, I was less bewildered by his plating than Michael and Judy appeared to be. In addition, the flavors of the pickling and the lightness of the gazpacho were so spot-on there was no way he could find himself in the bottom two.
Cleary at the bottom of the pile for me were Chefs Zakarian and MacMillan. Chef Zakarian hid the four main ingredients under a layer of muddy mushroom flavors that reduced them to nothing more than texture. It was easily his worst effort of the competition, and I could not let him escape the Secret Ingredient Showdown.
Alton Brown pulled back the crimson cover to reveal that this week's secret ingredient was coconut. At first glance, it might have seemed more suited to Chef MacMillan's Asian fusion approach than to Chef Zakarian's classic culinary background. However, by this stage in the game, we were expecting great things from both chefs.
Chef Zakarian later acknowledged that one piece of his chosen protein, halibut, was overcooked. Unfortunately, it appeared in front of me. In Kitchen Stadium poor execution can result in a loss and I marked him down. This week, however, had been all about improvisation, and Chef Zakarian made a late decision to produce a crudo. Despite the fact that Chef MacMillan created one of his best dishes of the whole competition, one improvised and breathtaking bite from Chef Zakarian was enough to keep him in the running.
As a crestfallen Chef MacMillan returned to the kitchen I turned to Judy Joo and whispered, "He's such a good guy". He is and we were all sad to see him leave. If you ever get a chance to meet him, you will find out just how good a guy he is. He is also one hell of a cook.
He won't, however, be The Next Iron Chef.
More behind-the-scenes extras from Super Chefs, episode 4: