One-on-One with the Winner of Worst Cooks in America: Celebrity Edition
Get the interview with the celebrity winner of Worst Cooks in America, Season 7.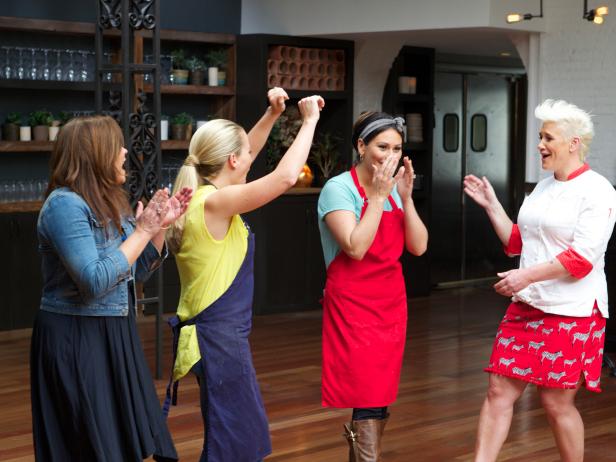 Rachael Ray (L), celebrity-recruit Kendra Wilkinson, celebrity-recruit Jenni Farley and chef Anne Burrell react as Jenni Farley is announced to be the winner as seen on the judging of the final challenge, a three course meal, as seen on Food Network's Worst Cooks In America: Celebrity Edition, Season 7.
Anders Krusberg, 2015, Television Food Network, G.P. All Rights Reserved
This season on Worst Cooks in America, seven celebrity recruits signed up to be whipped into shape by mentors Anne Burrell and Rachael Ray, but each week one recruit was eliminated from Boot Camp. After six weeks only two recruits remained: the Red Team's Jenni and the Blue Team's Kendra. And they had to face off in a final challenge. Only after cooking a three-course restaurant meal and presenting it in front of three culinary experts did they find out who would leave with $50,000 for charity. FN Dish has the exclusive interview with the winner.
Before facing their finale challenge, both Jenni and Kendra had a successful practice day in Boot Camp. Despite nearly having a meltdown when asked to cook live lobster, Jenni got great hands-on experience and Anne eventually switched lobster to lump crabmeat. On the finale day, Jenni soon found her groove, cooking in the kitchen of The Milling Room in New York City. She managed to make very few mistakes and put out three dishes that looked nearly professional. At elimination time, all three judges, Madison Cowan, Ross Matthews and Jamie Bissonnette, agreed that it came down to flavor versus level of difficulty, and in the end they chose the Red Team's Jenni as the winner of Worst Cooks in America. Jenni leaves with $50,000 for her charity, Pick Your Paw Animal Rescue, and is no longer one of the worst cooks in America.
Congratulations! How are you feeling?
Jenni "JWoww" Farley: Thank you. ... Exhausted. Mentally drained. It was such an experience, because we had to get up at, like, 3:45 this morning, so I already thought there was no shot at me winning, because I'm not a morning person, but, I mean, I studied my ass off last night. I studied today. I was just picturing it in my head, and now that I won ... I can finally relax. ... It's amazing.
What was your mentality like this morning? Were you nervous or worried? What things were going through your mind?
JF: I take really good notes, so I kept saying to myself, "As long as I just tunnel vision this, get focused and just don't look at the big picture, just take it step by step through my notes, I got it." And that's what I did. So I started going little by little, getting into my robotic ... mentality and flow and feel, and Chef Anne ... helped me along the way, but without helping, because they can't really, and I felt great. Regardless of if I was going to win, I always said, me and Kendra, we did the best that we possibly could in that kitchen, and I felt like a winner already. But, you know, you're a [freaking] ball of nerves.
Thinking about your dishes, was there one in particular that you had trouble with — any that threw you for a loop?
JF: No. Everything really came together nicely. The only thing that really pissed me off is when the judges were [critiquing] my soup. I told the waiters to pour from the side, like slowly into [the bowl], and ... I think they poured it on top. ... I had a really nice fish pile, like stacked, and I think it crumbled everything, and that almost cost me the competition and cost [the waiters] their lives ... because I would have killed them. So during the competition, and right before they announced the winner, the judges were telling me this, and ... I was ready to start crying right there. ... I was never so upset and nervous in my life.
What dish do you think you were most proud to present to the judges?
JF: I don't know. All my dishes were so unique and so just beautifully done, like how Chef Anne explained. ... It was just such an amazing feeling to see each one go, because they went the best that they could go, and I just felt so proud of each of them. I would say the first one was the hardest, because you're getting in the swing of things, and I'm prepping the other two dishes with the first one, because one's a soup, one is a farro. So I need longer cooking on them. [For] the first hour, I was a little frazzled trying to get, basically, three dishes done, trying to get the start of two, and then, like, the hors d'oeuvre. So that was a little emotional.
Thinking back to your entire time here, you actually won a number of challenges. I think you were the leader most of the time. Did that give you a little bit of oomph and extra confidence going into the finale?
JF: I think I watched too many movies where if you see, like, the strong person that kind of is very consistent ... I never see them being the winners in the end. I always see the underdog being the winner. So that actually made me more nervous, because Kendra was constantly accelerating and doing better each round. And because, I think, she was the underdog in this, I really thought she was going to take it, and that scared the hell out of me.
Anders Krusberg, 2015, Television Food Network, G.P. All Rights Reserved
Altogether, is there something that you feel you walk away with from this competition? Have you learned something about yourself through all of this?
JF: I definitely learned that I'm pretty good under pressure. I'm not as bad of a cook as I thought, and ... it was like [a] once-in-a-lifetime experience to work with Rachael Ray and Chef Anne and to feel their love. Like, I'm such big fans of them. So, like, not even being on Rachael Ray's show, but nervous as all hell, and I can honestly say, like, I know Rachael. I know, like, it's just so trippy to me, and to say that I learned from them, like, people would kill to be in that position. And I was in it, and I won, and it's just — it's such an unbelievable feeling. Such an amazing feeling.
How was it working with Anne? How did you two work together? How was that dynamic?
JF: I was scared to work with Chef Anne, because we both have the same personality, and sometimes it's like oil and water, and, you know, you just can't find that groove. ... I'm not a submissive person, but I became submissive to her, because I know she knows what she's talking about. But I kept my personality, and I think we became, like, the best of friends because of it. I wasn't, like, pigheaded. I wasn't hardheaded. I always listened to everything that she did. You know, we would have our little witty banter back and forth, whatever, but, you know, we would just laugh. At the end of the day, we laughed during this whole finale, because she goes ... "Everything that I taught you, you're doing." [I did it] without her asking for me to do it, and it was just a proud moment on both of our ends. It was awesome.
Is there one top thing that you learned from her?
JF: I learned so much from Chef Anne ... but honestly I just took away such a great experience. Just the feeling that ... I can make Chef Anne ... happy, and I succeeded and I won her, you know; it's almost like ... a give-and-take, because what she taught me helped me win, and then [when] I won [I] helped her get her number five. ... I took so much away from her, more than just, like, the prepping and the cooking and all that. Like, it's just this whole experience.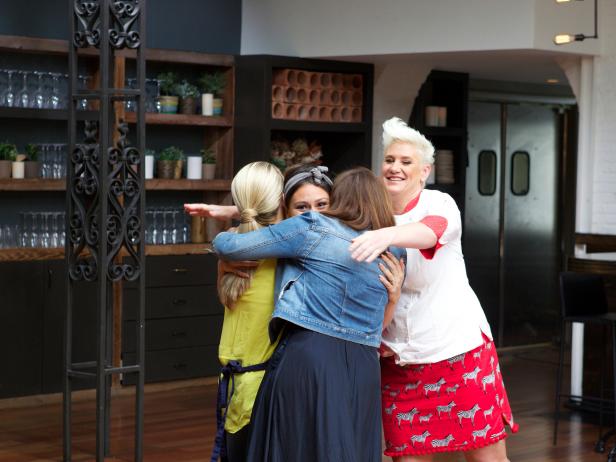 Rachael Ray (L), celebrity-recruit Kendra Wilkinson, celebrity-recruit Jenni Farley and chef Anne Burrell react as Jenni Farley is announced to be the winner as seen on the judging of the final challenge, a three course meal, as seen on Food Network's Worst Cooks In America: Celebrity Edition, Season 7.
Anders Krusberg, 2015, Television Food Network, G.P. All Rights Reserved
How was it working with all the other celebs? It seems like you guys had a really good camaraderie.
JF: [The] other contestants and celebrities were awesome. Chris — I love him. He's so pretty and sweet, and ... his hospitality is genuine. Barry — he's just the kindest. Kendra I've known and talked to for years, and [we] finally got to see each other in real life. We always text. You know, Ellen, SNL, you can't beat that. And Jaleel ... I was a huge fan of [his]. ... We all got along. Nobody was, like, a diva. ... We were all in it to win it, but, like, praised each other, and ... there was no backstabbing. It wasn't that type of competition, so it made the experience so much better.
Do you think you're going to be doing more cooking after this?
JF: [I'm] definitely going to be cooking. First sleeping a lot, but definitely I will be cooking my ass off, because I love it. ... That's probably the biggest thing I took away from [the competition]: that cooking can be fun and awesome and a good time.
You mentioned last time that if you won for your charity, Pick Your Paw Rescue, you'd like to throw a party for the rescued dogs. What does it mean for you to win this money for them?
JF: I'm dying over the fact that ... I won this money for my charity, and I cannot wait for them to see the announcement. I'm not going to tell them. I'm just going to tell them to wait and see, so I can actually see their excitement. And then once that money gets deposited, we're going to pull as many dogs as we can, [and] I'm legit going to have a big-ass dog party at my house — or wherever I can.