Healthy Snacks to Keep at the Office
Stock plenty of healthy snacks in your office so you're not tempted to hit up the snack machine when hunger pangs strike.
Morning and afternoon snacks (whether at home or at work) not only squelch hunger pangs, they offer additional opportunities to incorporate vitamins, minerals and fiber during the day, important nutrients that you can't always get in your average three square meals. It just takes a handful of ingredients and a little creativity to make gourmet snacks that will make you the envy of the office. Just remember this when planning: Including fiber and protein in your snacks will keep you satisfied for hours (not true of a candy bar or handful of pretzels).
Healthy Snacks to Keep in the Office:
Note: Some snacks require a refrigerator, freezer or ice pack, but they are well worth it.
Roasted red pepper hummus with cut-up bell peppers and zucchini, baby carrots and cherry tomatoes
Frozen grapes dipped in lowfat vanilla yogurt (freeze grapes the night before)
Pumpernickel bread squares with spreadable herbed cheese (such as Boursin or Alouette)
Olive tapenade on whole-wheat pita, whole-grain crackers or a whole-wheat sandwich thin
Part-skim ricotta cheese mixed with diced oil-packed sundried tomatoes and fresh basil; spread on Triscuits or whole-grain crackers or served with whole-wheat pretzels
Light vegetable cream cheese stuffed into mini sweet peppers (also known as vine sweet mini peppers)
Mixed unsalted nuts with dried cherries or dried cranberries
Dried mango and pineapple dipped in lowfat lime or lemon yogurt
Instant oatmeal with slivered almonds
Sliced apples dipped in nut butter (peanut, almond, pine nut, pecan, cashew, pistachio, macadamia, hazelnut, Brazil) or seed butter (hemp, sesame, pumpkin, apricot)
Fresh green beans dipped in lowfat herbed cheese (like Laughing Cow)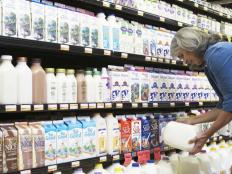 Full-fat foods are finding favor, office snacks to keep on hand. Plus: Coca-Cola reveals scope of funding.