The Best Substitute for Cream of Tartar
Stabilize meringues and more with a common kitchen staple.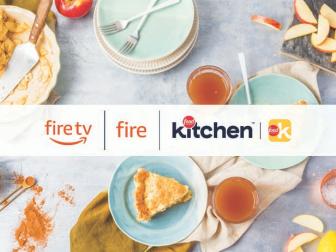 Download Food Network Kitchen to sign up and get access to daily live classes, thousands of on-demand cooking classes, in-app grocery ordering and so much more. Own a Fire TV or Fire tablet? You can now get a 1-year complimentary subscription to the app — read here for more details. Terms and conditions apply.
By Regan Cafiso for Food Network Kitchen
Cream of tartar pops up from time to time in recipes — especially for whipped and baked goods — but it's not common enough that you definitely already have it on hand. So if you start making a recipe and discover you don't have any, should you cancel your baking plans? Nope! There's another ubiquitous ingredient that makes a great substitute.
Cream of tartar is a derivative of tartaric acid. It comes in powdered form and can be found in the spice section of just about any supermarket. Most commonly used in recipes for its stabilizing qualities, cream of tartar helps strengthen the tiny bubbles of air created while whipping meringues and frostings. Without it, those fluffy egg whites can easily deflate. It also acts as a leavener in baked items when paired with baking soda — in fact, cream of tartar is a main ingredient in most baking powder.
Cream of tartar is acidic, so it can be replaced by other acidic ingredients. Our preferred substitute is lemon juice. Freshly squeezed lemon juice is just tart enough to work effectively without the harsh taste of vinegar. If you're out of lemons, however, white vinegar will also work. The substitution ratio is 1:2 — for your recipe's measurement of cream of tartar, use double that amount of lemon juice. So if a recipe calls for 1/2 teaspoon cream of tartar, that's 1 teaspoon of juice. It's really that simple!