Luca Della Casa is a finalist on Food Network Star, Season 10.
Luca Della Casa, 38 (San Antonio), was born in Torino, Italy, and now resides in Texas. An adventurous, rugged outdoorsman with a passion for food, Luca has been in the food industry for more than 20 years, working his way up from dishwasher to prep cook to line cook to executive chef. He learned to cook with his family and is determined to bring people together around a table to share food, Italian style.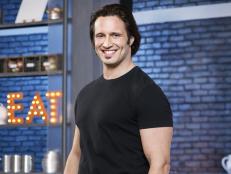 Get to know Food Network Star finalist Luca Della Casa ahead of the Season 10 premiere on Food Network on Sunday, June 1 at 9|8c.