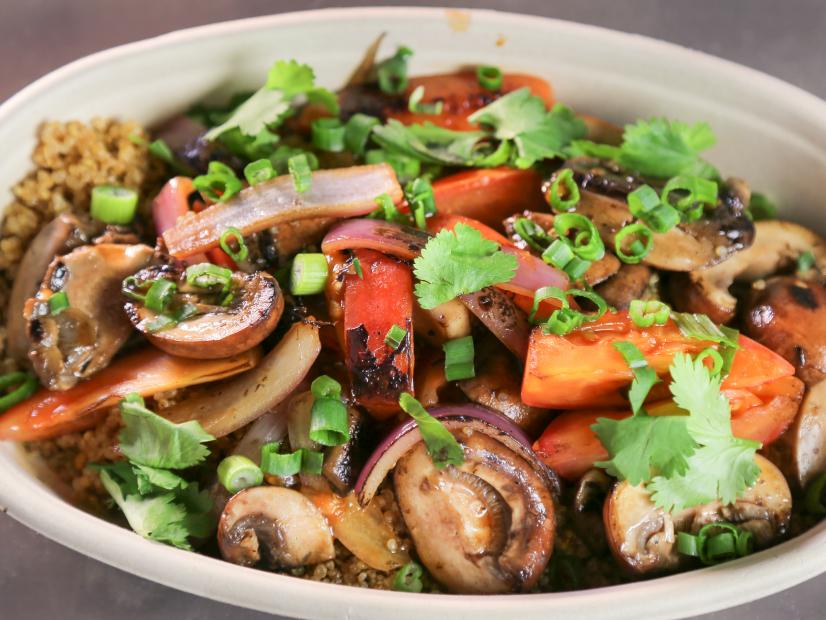 Wash mushrooms, then pat dry or let drain for 15 minutes. Remove and discard stems, then slice caps 1/4-inch thick. Set aside.
Wash quinoa with cold water three times, then let drain for 10 minutes. Combine vegetable oil, quinoa, salt and 1/2 teaspoon garlic paste in a pot on medium heat. Add water to cover quinoa by 1/4 inch and boil until done, about 30 minutes. Remove from heat and set aside.
Combine soy sauce, vinegar, Yellow Pepper Paste, ginger paste and remaining 1/2 teaspoon garlic paste in small bowl. Mix well and set aside.
Heat a wok over medium-high heat, then add vegetable oil and heat until smoking-hot. Add mushrooms and stir-fry for 1 minute, then set aside in small bowl.
Add more oil to the wok and heat until hot, then add red onions and cook for 1 minute. Add tomato and cook for 1 minute, then add three-quarters of the stir-fry cooking sauce and saute for 30 seconds more. Add cooked mushrooms and stir-fry for final 15 seconds. Set half aside. Add half of cooked quinoa and remaining stir-fry sauce to the wok and cook for 1 minute.
To serve, add all quinoa and pour over all mushroom stir-fry. Garnish with the green onions and cilantro leaves and serve.
Peruvian Yellow Pepper Paste:
Cut peppers in half and remove seeds and veins.
Add to a medium pot and cover with cold water. Place over medium heat and bring to a boil, then let peppers boil for 10 minutes. Remove from heat and drain well for 15 minutes. Repeat this step two additional times, starting peppers each time in fresh cold water.
While still warm, peel off skin. Blend skinless peppers in a blender to create a paste. Let paste cool down, then store in a lidded container in the fridge.
Use kitchen gloves at all times when preparing paste using any hot peppers.