Snapchat Stars: Food Lovers to Follow
We've zeroed in on seven of our own Snapchat faves, starring hilarious food-loving individuals, for you to add and follow.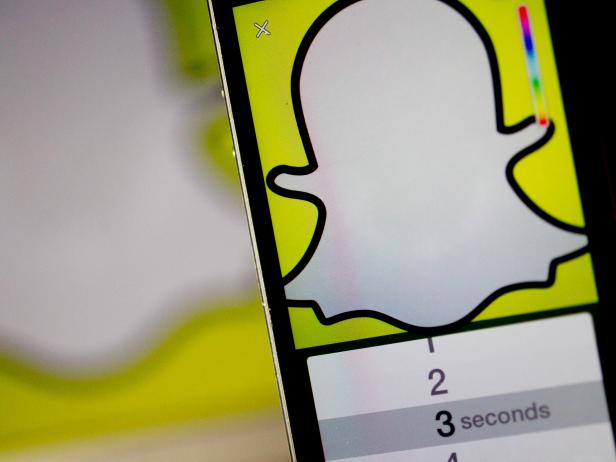 SNAPCHAT VALUATION
The Snapchat Inc. application (app) is displayed for a photograph on an Apple Inc. iPhone 5s in Washington, D.C., U.S., on Wednesday, Feb. 18, 2015. Snapchat Inc. is raising money that could value the company at as much as $19 billion. Photographer: Andrew Harrer/Bloomberg via Getty Images
Bloomberg, Â 2015 Bloomberg Finance LP
When you're not creating Snapchat works of art yourself, mulling through your friends' stories or, dare we say, taking screenshots of their silly Snaps (gasp! oh no, you did not!), you best believe that there is more to Snapchat than meets your current feed. In fact, there's a wide world of Snap sensations out there just waiting for you to get out of your social circle and add them. If you're in the market for some new Snapchat eye candy, you're in luck: The new site Snap Stars showcases about 50 of the app's most-adventurous users. Plus, we've zeroed in on seven of our own Snapchat faves, starring hilarious food-loving individuals, for you to add and follow.
According to the Snap Stars lineup, @Levicooks is a food lover worth following. Watch this Snapper whip up fried rice, complete with a scrambled egg and a step-by-step culinary walk-through.
You may have seen Hannah Harto's quirky culinary escapades on her YouTube show, My Drunk Kitchen. Now you can get your fix of her daily adventures on Snapchat, with food shots and a fair dose of selfie action.
@Mookygwopson and @Harleyplays
If you're familiar with the dudes from Epic Meal Time, you know what to expect out of said dudes' Snapchats. Follow the brains behind the show — Harley Morenstein, at @Harleyplays, and his buddy Josh Elkin, aka @Mookygwopson — for hilarious moments of consumption, meat sweats and more.
Leave it to Portland, Ore.-based Branden Harvey, a Snapper glorified on Snap Star who also boasts 101k Instagram followers and counting, to deliver quality and often food-related Snaps while traveling the world — and Portland.
Those of you in New York City, Chicago, San Francisco and Denver, Colo., are likely up to speed with the restaurant reviews on the site Immaculate Infatuation and its much-used #EEEEEATS hashtag. Follow @InfatuationTV on Snapchat to keep up with the team's dining antics in real time.
Follow the Brits behind SORTEDfood as they break out of London and take an international road trip in the name of good food. They're #LostAndHungry and their Snapchat is living proof.
No doubt, you can also sate your food yearnings on a daily basis by swiping through Food Network's own contributions to Snapchat's Discover tab.