Say Buenos Dias with Our Best Mexican Breakfast Recipes
For me and most of the people I know, celebrating Cinco de Mayo has always involved a quick after-work injection of Mexican food straight to the belly. Tacos dispensed from beloved neighborhood food trucks, salty chips and big batches of "guac" mashed table-side at local Oaxacan restaurants — even a good-old fast-food burrito dressed in silver foil are all distinct possibilities. But this year at Food Network, we're excited to start a new Cinco de Mayo tradition. Here's a hint: It involves waking up early.
Hold the groans and just imagine the cheesy, eggy delights you might expect to find on the breakfast table — now imagine them dressed in Mexican flavors, like zingy salsas, juicy pico de gallo, freshly torn cilantro leaves, a runny egg, crumbled cotija or queso fresco … I could go on and on. But without further ado, here are a few of our favorite Mexican breakfast dishes that make rolling out of bed totally worth it. And if you really can't bear the thought of waking up, it's perfectly fine to enjoy these dishes for lunch or dinner, too!
Here's a peppery, vegetarian take on an enduring favorite. Skip the basic Mexican cheese blends you'll find at the supermarket and try to get your hands on some Oaxaca cheese instead; it has a similar texture to mozzarella and melts beautifully.
These bubbly, open-faced breakfast sandwiches are traditionally made with cheese and refried beans, but many people enjoy bulking them up with scrambled eggs and juicy sliced tomato. As an alternative to the lard typically used for refried beans, the chefs in Food Network Kitchen topped these molletes with crispy bacon bits.
This Mexican brunch dish is designed to use up your leftovers: Day-old tortillas, cut or torn into chips, are cooked in salsa verde until the tortillas are slightly softened. You can eat the softened tortillas alone, but many people like to add beans, eggs or shredded chicken. A sprinkle of queso fresco, a white, mild and fresh Mexican cheese, ties it all together.
In different parts of Mexico, migas is a traditional breakfast dish of fried corn tortilla strips and scrambled eggs. Like chilaquiles, another hearty and inexpensive breakfast, migas makes use of hardened corn tortillas left over from previous meals. Sunny Anderson brings us her Texan take, which includes a few additional ingredients like diced onions, green chile peppers, diced fresh tomatoes and cheese.
It doesn't get any simpler than this hearty breakfast dish of scrambled eggs and chorizo. Take note from the recipe developers in Food Network Kitchen: "As with most simple dishes, the quality of ingredients really matters, so try to find good — in this case, fatty and spicy — chorizo to carry the dish."
The eggs in this beloved breakfast dish are sauced with a ranchero-style sauce of roasted tomatoes, spicy ancho chiles and smoky chipotles. To make breakfast easier, make the sauce ahead of time and reheat to serve, adding a bit of water to thin if necessary.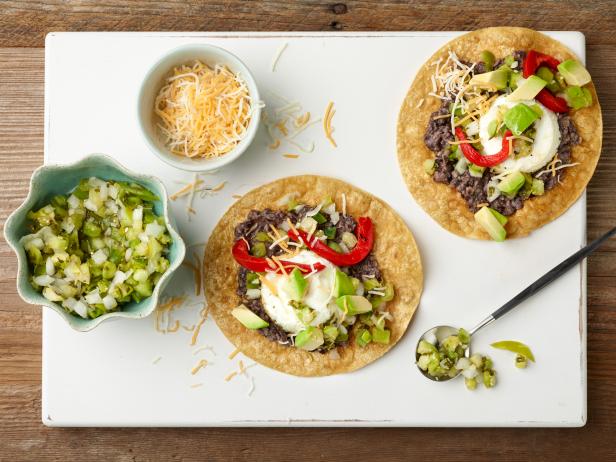 FNK_15_MinuteBeanEggAndAvocadoTostadas_H
Chef Name: Food Network Kitchen Full Recipe Name: 15-Minute Bean, Egg and Avocado Tostadas Talent Recipe: FNK Recipe: Food Networks Kitchen's 15-Minute Bean, Egg and Avocado Tostadas, as seen on Foodnetwork.com Project: Foodnetwork.com, Beat the Clock Dinners / Thanksgiving Show Name: Food Network / Cooking Channel: Food Network
Renee Comet, 2013, Television Food Network, G.P. All Rights Reserved
Similiar to huevos rancheros, this quick and simple morning fix starts with fresh tostada shells topped with refried black beans, diced avocado, red peppers and egg. This is great for big brunch parties, since you can cook a bunch of eggs quickly in a greased muffin tin — a major time saver.