The Right Way to Roll a Burrito
Here's the one thing you should be doing before you even put filling to tortilla.
Let's be real — rolling a burrito is much harder than it looks. In theory, all you should have to do is cook up your favorite protein, layer it on a tortilla with some fixings and wrap everything up nice and tight. Easy, right?
Yet, every time I try to assemble a burrito, either one of two things always seems to happen. My tortilla cracks, making it more difficult to fold, or, even worse, the entire tortilla falls apart, leaving a mess all over my countertop. Ugh.
After cooking her eggs, chorizo and hash browns (tater tots or French fries will work as well), Vivian starts by warming up her flour tortilla in a nonstick pan. If you're comfortable with it, you can also heat your tortilla by placing it directly onto the range of your stove over low heat; just be careful not to burn your fingers!
Warming your tortilla is a crucial step in the burrito-rolling process. You see, a heated tortilla is more flexible than one straight out of the pantry or fridge, so it's less likely to crack or split while you're assembling or biting into it.
Once your tortilla is golden brown, remove it from heat and place it onto a flat surface, such as a cutting board. Start loading it up with all your fillings, making sure to stack them all onto one side of the tortilla. If you place your fillings in the middle, they'll pop out of the tortilla once you start to assemble your burrito.
To keep everything in place, Vivian uses a method she dubs the "tuck and roll." She squishes down the burrito fillings with a spoon and then grabs the side of the tortilla containing all those fillings. She folds this side of the tortilla over until it's touching the other side.
After that, she tucks in flaps of the tortilla and rolls the entire thing over into a perfect burrito shape. I was shocked at how easy Vivian made this seemingly impossible task and couldn't wait to give her chorizo-packed breakfast burritos a try. And remember, like Vivian says: "It doesn't have to be perfect, it's breakfast!"
Find Vivian's entire class (plus more tips and tricks) on the Food Network Kitchen app. And if you roll the perfect burrito, use #WeCook when you post photos of your creation on Instagram. You might just see them on our page!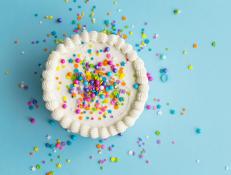 You need some planning, some patience — and this cheap, must-have tool.