It's Official — We're Only Using Silicone Straws From Now On
Here's why they beat out all other plastic-straw substitutes.
Keep in mind: Price and stock could change after publish date, and we may make money from these affiliate links.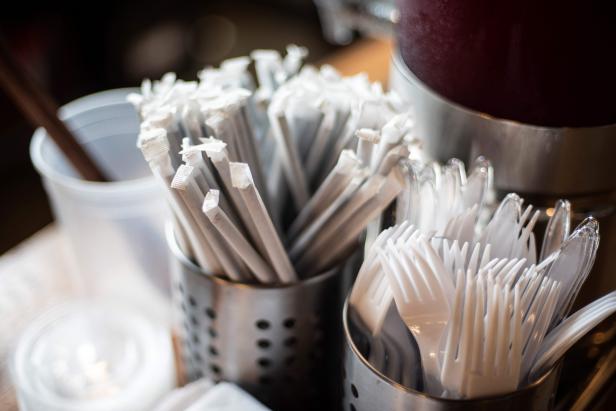 1151648899
Plastic straws wrapped in paper and plastic forks are seen at a food hall in Washington DC on June 20, 2019. - "How do you drink a milkshake without a straw?" The city of Washington has decided, in the name of the environment, to ban plastic drinking straws -- an act viewed as almost sacrilegious in the birthplace of this simple but seemingly indispensable part of daily American life.In the last century, millions of straws were produced in the Stone Straw Building, a stolid-looking structure of yellowing brick in a residential neighborhood. The building now houses the capital's transit police headquarters. The only visible sign of its historic character comes from a discreet commemorative plaque affixed to a wall above a garbage bin that honors the memory of Marvin C. Stone, "Inventor of the Paper Straw." (Photo by Eric BARADAT / AFP) (Photo credit should read ERIC BARADAT/AFP/Getty Images)
We've all seen the evolution of straws over the past few years, especially in the past few months. From plastic to paper to bamboo to glass to stainless steel, it seems like almost everyone has jumped on the no-plastic-straw bandwagon — and we are so here for it. According to National Geographic, Americans use more than 100 million plastic straws each day, so choosing any sort of reusable straw is, without a doubt, commendable. But many of these straws aren't 100% reliable or functional. The latest addition to the straw family, however, gets pretty darn close. They're colorful, bendy and just plain practical. Here's why we're putting down other straws and picking up these silicone ones, instead.
Paper Straws Aren't Realistic
Paper straws are no doubt adorable with their chevron patterns or floral detailing, but as far as durability and functionality, they pretty much get an F, unless you're slurping your drink up in a matter of minutes. Not to mention, although definitely better than plastic, they're still single-use straws that aren't ideal if you're trying to cut back on waste.
Bamboo Straws Require Too Much Work
Bamboo straws aren't much better. They definitely give you that natural, no frills aesthetic, but if you're not diligently washing and drying them quickly, the bamboo can easily absorb liquid, warp, crack and become trash.
Glass Straws Are Breakable
As far as glass straws go, they definitely look beautiful displayed on your bar cart or in a fruity cocktail. But if you're someone who tends to drop things more often than not, they might not be your best option.
Stainless Steel Staws Have a Distinct Taste
Stainless steel straws seem to solve all of these issues. They're durable, reusable and sleek. But they still tend to give you a brassy, metallic taste from time to time, and might not be great for anyone with sensitive teeth.
Silicone Straws Are Nearly Perfect
Enter silicone straws to save the day. Reusable and long-lasting, these little guys are the answer. They're dishwasher safe and come with little straw squeegees for easy cleaning. The silicone also stays at room temperature, so go ahead and use a straw for hot tea if you want! They're flexible and bendy, so you can squish them into your bag or shove them into a kitchen drawer. You can even cut them down to fit nicely in wine glasses to avoid red-wine-stained teeth. And did we mention how fun and bright they are? There's a color for every occasion.
So, say goodbye to all the sucky straws (😉) and say hello to the new silicone straw for the ideal drinking experience!