One-on-One with the Chopped Grill Masters Grand Champion
Get the exclusive interview with the winner of Chopped Grill Masters.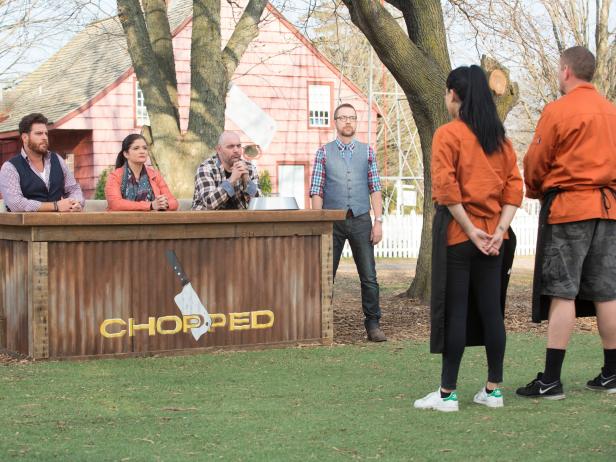 Chefs Angie Mar and Stan Hays stand before Chopped host Ted Allen and judges: Scott Conant, Alex Guarnaschelli and Chris Santos moments before finding out which chef has been Chopped and which chef has won the $50,0000 Grill Masters competition , as seen on Food Network's Chopped, Grill Masters Special.
David Lang, 2015, Television Food Network, G.P. All Rights Reserved.
The five-part Chopped Grill Masters tournament culminated in tonight's epic finale. One final battle. Four finalists. One goal in mind: Earn the championship title and win $50,000 in prize money. The preliminary round finalists — Chris Hart, Stan Hays, Leslie Roark Scott and Angie Mar — were all in it to win it. But by the last round, only two of them remained for a final showdown, facing a tough dessert basket while under immense pressure to succeed. Only one could win, and the person who came out on top did so by smoking the competition, with fierce focus, attention to detail and flavor-forward dishes. Hear from the Chopped Grand Champion of the Grill Masters tournament.
Appetizer: rattlesnake, lemonade iced tea, Japanese eggplants, hushpuppies
Entree: goat, rainbow carrots, watermelon, kokoretsi
Dessert: dragon fruit, pancakes, lemon meringue pie, jalapenos
First round: Leslie Roark Scott
Judges: Scott Conant, Alex Guarnaschelli, Chris Santos
Although Angie came into Chopped inexperienced in competition, she soon showed that she could grill among the best of them. She found her competitive voice during the tournament and let her food do the talking for her, cooking by relying on her gut despite at times hearing comments from the judges that would have discouraged less confident chefs. Certain basket ingredients almost threw her for a loop, like the rattlesnake in the appetizer round and the kokoretsi in the entree round, but she didn't let that dictate the way things would turn out. Going into the dessert round alongside Stan, she was more determined than ever to show off her control of flavor in her final dish. And in the end she earned the title of Grand Champion, leaving with the $50,000 prize money and knowing that her plates got her to the finish line.
Congratulations! What are you feeling right now? What's going through your mind?
Angie Mar: I am overwhelmed and shocked and really excited. It's been a long day, [laughs] but I'm very, very excited and so, so thankful and grateful that I got to do this.
How would you compare competing today to your last round?
AM: Oh, God! I don't know. I feel like the last round was a cakewalk compared to today. Today was like ... the last round times, like, 20. It was so much more intense and the competition was — they were so good. They were so good, and I'm sure it could have been any one of us up there. You know? And just small little things make all the difference, and it was so intense and amazing.
You mentioned that you felt really welcomed by your competitors. Can you talk about the camaraderie?
AM: My competitors in both rounds were so lovely. They all know each other in one way or the other, whether they are very good friends or just passing through. ... In both of my rounds I was the only one who didn't know anyone else. And they were just so encouraging and just warm and welcoming, and it was very, very cool.
How did you feel going up against these chefs who have competitive barbecue experience? And you were the only one who hasn't had any competition experience?
AM: I learned really, just in the past couple of weeks in doing this competition, that the barbecue circuit is a completely different world. It's a whole different animal than what I'm used to. I come from kitchens. ... Those guys have been competing for years. ... They were a really tough group in both rounds. They work for it, for sure. They made me work for it. ... It was a little intimidating ... especially coming into the finals and knowing that all three of my competitors have extensive barbecuing experience and competition experience — and this was my first competition. ... I was way more nervous going in today than I was my last round. ... I think it was during my appetizer round I had to stop and realize ... this isn't a barbecue competition, otherwise I wouldn't be here. It's a grilling competition, and that's what it's about and I know I can grill.
Now after winning your first competition, do you think you'll enter a barbecue competition or some other competition?
AM: No, I don't think for a barbecue competition, especially with these guys, definitely not. I might go eat at one, though [laughs] ... but yeah, I'm not stepping in the ring on their turf like that. ... As far as other competitions go, I don't know. I think if the right one came along and it had the ability to really take me out of my comfort zone and really test my abilities like this one did, I might do it.
Let's talk about your cooking today. What was the most-difficult round?
AM: I think the appetizer round — just dealing with the rattlesnake, because I've never cooked it before. I've never seen one before (dead and skinned), [laughs] so when I opened that box to see it there I was just like: "Oh, my God. I don't even know what to do with it." ... And that's the biggest part of cooking, is understanding the protein that you're dealing with or understanding the product you're dealing with, and I had no clue. ... I didn't know how tough it was; I didn't know if it needed a lot of heat or a little heat. I had no idea. ... Just the unknown of that, I think, was a little hard.
Your entree round seemed to go very well, but there was a point where you weren't sure how it was going to turn out, especially after hearing the judges' comments on Stan's dish. Were you worried how your dish was going to compare after they judged his?
AM: Oh, I was terrified. I thought I was definitely going home and there was a point where ... we had just finished plating and ... I hadn't looked at what [the other competitors] were doing at all, [but then] I looked over and I saw Chris had something in a bowl. And then he told me it was curry, and then I was like: "Dammit. Why didn't I think of that?" [laughs] I was like, "That's brilliant." ... I mean, [the judges] went crazy over Stan's dish! It was awesome. ... I'm sure if I had a lot of practice and a lot of time I could probably barbecue a leg like he did, but I was really worried. But I think, again ... I had to really remind myself: This is a grilling competition ... not a barbecue competition. I kind of just wanted to eat Stan's dish, too, because it looked delicious.
You used the smoker pretty much every round. What made you want to do that? Have you used the smoker so often before?
AM: I like a lot of smoke on my food. And when I cooked at Reynard, which is an open wood-fire grill and wood oven restaurant, I was smoking things all the time. ... I think it was when I was there that I really fell in love with the idea of incorporating that ... as much as I can in my dishes. I really try and incorporate smoky flavors into my menu at The Beatrice. I think that pretty much ... almost every menu item ... has smoke components to it. I even fell in love with it so much that I tried to incorporate it into our bar program as well and doing smoked cocktails and things like that. And our desserts as well. The interesting part, though, is that I've actually never used one of those smokers before. ... My kitchen might be one of the smallest kitchens in Manhattan, if not one of the smallest kitchens ever. So we've got to be really creative. ... I guess we call it, like, ghetto smoking. You know? We use hotel pans and perforated pans and I get creative with tinfoil. And that's how I learned, is to just be really innovative with the equipment that we have to achieve virtually the same result. ... I'm in love with that flavor and that's why through all of the rounds I tried to utilize different kinds of woods or smoke different components of the dish, whether it was the proteins or the smoked honey that I did for dessert.
In the dessert round, when you saw the dragon fruit, what sort of the things were racing through your mind? How did you come up with that composed dish?
AM: I was really excited to see dragon fruit, because I think it's such a beautiful thing and I love things that are really vibrant and eye-catching. But I've never cooked a dragon fruit before — ever. I think the last time I had a dragon fruit was probably in the form of a Popsicle ... [from] a small Vietnamese market. ... I didn't know it would cook, and I didn't know how, and that's why I was tasting it the whole time, because I was trying to figure out exactly what to do with it. It's bland, but it also has a little bit of a tart taste to it. But I was definitely excited about it. I think that the pancakes were probably the hardest part of that [round]. Just like the hushpuppies were the hardest part of ... the appetizer round. It's like, taking a product that already exists. We can all take raw products and do amazing things with them and it's all open to our interpretation, but to take a product that someone else has made and turn it into something else — that's really hard. It's really hard, you know, you've got to un-make something.
That leads me to the kokoretsi, another premade product. I think Chris called your use of the ingredient probably the most-successful part of your dish. Yet in the same basket you had watermelon, which the judges felt you could have done a better job with.
AM: The watermelon sauce was awesome. It was great. It was really weird, because I was grilling the watermelon, and as I was pulling it off the grill and putting it on the sheet tray ... I was looking at it and I was like, "It's so beautiful." And there were these amazing chunks and just like this really bright, vibrant red. ... I was trying to figure out how I was going to keep them whole and then I glanced over and I saw chunks of red down the line on Chris' and Stan's stations, and I thought, "I can't also put out chunks of red." And that's when I made the decision to just make it into a sauce. ... I loved the mustard in it and I think I put honey in it too. .. But I thought the sauce still, like, evoked the grilled flavor and it achieved what the watermelon is when you grill watermelon, which is so amazing. I love grilled watermelon. ... When I was putting it on the plate, I had felt that it had achieved what a piece of grilled watermelon would have, because it had all of those components with a little kick to it because of the mustard. ... So when I pulled the kokoretsi out of the box, I had no idea what it was. ... And I couldn't, like, cut into it or taste it. ... I was like: "Is it banana leaves? Is it some sort of bamboo? I have no idea. What is this?" I had no idea. … So I cut into it first; I saw a liver or I think tongue, actually. I tasted the tongue, and then I cut into it again and there was meat. Then I cut into it again and then there was liver, and I was like, "Jackpot!" I love liver. Like, I don't care what kind of liver it is, whether it's chicken or pork or veal or whatever, it's just awesome. It's one of my favorite things ever. So I just kept cutting slices off and trying to dig out all of the liver that I could and it was so strong, though. ... That's when I had to figure out how to lighten it, because I didn't want it to overshadow the goat, because that goat couldn't have been more than a few days old. It was so small and so tender. ... I just figured the flavor was going to be really delicate, because it was probably still on milk. So that's when I made the decision to make it into — I don't even know what it was. I don't know if you call it a puree or an aioli or what, but I just needed something to lighten it, because it was going to overpower the goat.
So how are you going to celebrate this win — with your friends and family?
AM: Well, I think I'm still digesting the fact that I won. I think I'm a little in shock right now, but I'm definitely going to celebrate. I don't know. I think I'm going to celebrate by cooking a big meal for everyone. It is kind of awkward, isn't it? I just got done cooking. But yeah, or maybe we will order pizza. I don't know.
What are your colleagues going to say when they find out you won?
AM: They told me not to come back if I didn't win. [Laughs] So at least I'll be able to show my face around the kitchen now. But yeah, I'll definitely celebrate, for sure.