6 Desserts That Will Transport You Back to Childhood
Molly Yeh's recipes for sweet treats are nostalgia on a plate.
If your best childhood memories include crispy cereal treats, massive cookie cakes and sprinkles galore, then Molly Yeh, the star of Girl Meets Farm, has the desserts you're looking for. She recreates the treats that you loved as a kid with whole ingredients, lots of sprinkles and usually a surprise or two. Here are some of the best re-creations from this Emmy Award and James Beard Award nominee:
Every suburban mall had the chain bakery with those massive chocolate chip cookie cakes that the cool kids had at their birthday parties. Now you can make one at home and share — or not, no judgement.
This quintessential childhood treat is hard to improve upon, but Molly has done it. She adds peanut butter, graham crackers, chocolate chips and rainbow sprinkles to hers.
Molly's homemade take on a boxed cake favorite makes a perfect birthday cake. She recommends using imitation vanilla flavoring for that taste you remember from childhood.
You know those famous chocolate sandwich cookies with addictive cream filling? Now you can make them at home. We recommend an ice-cold glass of milk for dunking.
Molly's take on a childhood favorite pairs a pistachio and white chocolate filling with raspberry jam. Top these flaky pastry pockets with a pretty raspberry glaze for an irresistible combo!
If you loved the peanut butter version of these sandwich cookies, your grown-up taste buds are going to flip for Molly's pistachio butter version.
A new season of Girl Meets Farm premieres Sunday at 11a|10c.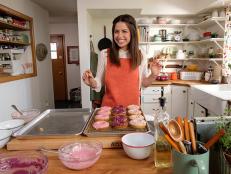 The food world gears up for its biggest awards nights.