Season 3 of Guy Fieri's Tournament of Champions Brings Together the Biggest Group of Chefs Ever for the Biggest Cash Prize of All Time
Mark your calendars: Season 3 of Tournament of Champions starts Sunday, Feb. 27 at 8|7c.
Fresh off a history-making second season of Tournament of Champions, Guy is here to change the game once again, and in true Fieri fashion, he's promising the biggest, best season of TOC ever when the first episode kicks off Sunday, Feb. 27 at 8|7c.
That's right, TOC III is set to be supersized in every single way. In the past we've had 16 chefs competing… but not this year. Get ready to cheer for a whopping 32 (!!!) of the greatest culinary masterminds in the world as they come together in Guy's hallowed arena for a chance at the hugest cash prize in tournament history: a staggering $100,000. Additionally, Guy has doubled the number of episodes to eight this season and has boosted each to be two hours long. Tune in every Sunday to watch *four* can't-miss battles — each with win-or-go-home stakes — as the bracket unfolds and your favorite match-ups go head-to-head.
Yes, the Randomizer is back, and yes, it too will be outfitted with all-new ingredients designed to even the playing field and keep competitors on their toes as the challenges continue. Floor reporters Justin Warner and Simon Majumdar will be on hand once again to closely monitor the chefs' processes and ultimately present their dishes to the judges. As always, TOC III will employ blind-judging; the chefs don't know who the judges are, and the judges aren't aware of whose food they're eating or even who's competing. It's all about the food here, and the only thing that matters is what's on the plate.
From shocking spins of the Randomizer to bracket-busting upsets and emotional reveals, this season of Tournament of Champions will be the most-dramatic one yet. And you, the fans, are invited to join the conversation in real time as episodes air. Beginning with the premiere on Sunday, Feb. 27 at 8|7c, fans can head to @FoodNetwork on Twitter to vote in each Round 1 battle and support their favorite chefs with custom hashtags. And after Round 1, fans can once again build their own TOC brackets and select who they think is going to win the coveted $100k prize. Everyone participating in the Twitter bracket experience will be entered for a chance to win huge prizes as well so don't miss out on this customized event when it begins on March 20.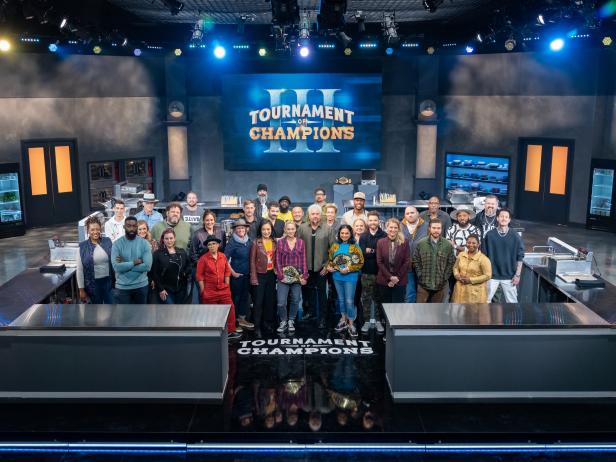 Host Guy Fieri with Contestants Tiffany Derry, Carlos Anthony, Eric Adjepong, Kelsey Barnard Clark, Brian Malarkey, Karen Akunowicz, Aaron May, Tim Hollingsworth, Einat Admony, Antonia Lofaso, Crista Luedtke, Bryan Voltaggio, Michael Psilakis, Shirley Chung, Joe Sasto, Tobias Dorzon, Brooke Williamson, Jet Tila, Chris Cosentino, Elizabeth Falkner, Maneet Chauhan, Tiffani Faison, Darnell Ferguson, Marcel Vigneron, Amanda Freitag, Christian Petroni, Phillip Frankland Lee, Madison Cowan, Justin Sutherland, Aarthi Sampath, Richard Hales, and Michael Voltaggio, as seen on Tournament of Champions, Season 3.
Ready to find out who's competing this year? Here's what we've got. The chefs representing the East Coast are Eric Adjepong, Einat Admony, Karen Akunowicz, Kelsey Barnard Clark, defending champion and Tournament of Champions II winner Maneet Chauhan, Madison Cowan, Tobias Dorzon, Tiffani Faison, Darnell Ferguson, Amanda Freitag, Richard Hales, Christian Petroni, Michael Psilakis, Aarthi Sampath, Justin Sutherland and Bryan Voltaggio. The chefs showing off their chops from the West Coast are Carlos Anthony, Shirley Chung, Chris Cosentino, Tiffany Derry, Elizabeth Falkner, Phillip Frankland Lee, Timothy Hollingsworth, Antonia Lofaso, Crista Luedtke, Brian Malarkey, Aaron May, Joe Sasto, Jet Tila, Marcel Vigneron, Michael Voltaggio and Season 1 winner Brooke Williamson.
Mark your calendars for the season premiere of TOC III on Sunday, Feb. 27 at 8|7c.