Everything to Know About Basil
And what to cook with summer's favorite herb.
By Layla Khoury-Hanold for Food Network Kitchen
Layla Khoury-Hanold is a contributor at Food Network.
Basil is synonymous with summer, when vibrant bunches overtake backyard gardens and farmers' market stands. But there are many different varieties of basil to cook with, and its different flavor profiles makes it a versatile addition to salads, sauces, entrees, drinks and even dessert. Here's everything you need to know about basil, including the different varieties, how to select and store it and what to cook with it.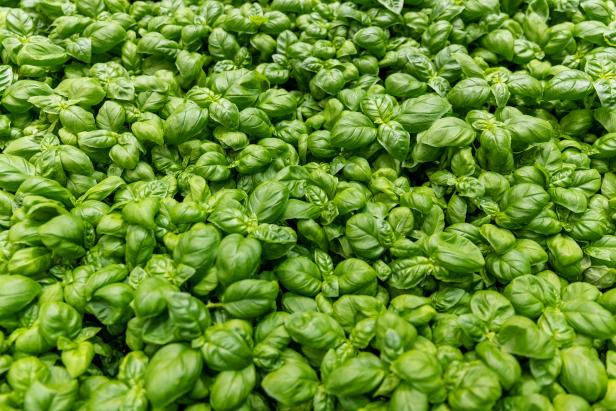 1458045745
BERLIN, GERMANY - JANUARY 20: Basil stands iplanted at the 2023 International Green Week (Internationale Gruene Woche) agricultural trade fair on January 20, 2023 in Berlin, Germany. The International Green Week is among the world's biggest agricultural trade fairs and brings together agriculture, food, nutrition and horticulture. This year's fair is the first in full, traditional format since the coronavirus pandemic. The International Green Week is open to the public from January 20-29. (Photo by Maja Hitij/Getty Images)
Maja HitijPenpak Ngamsathain/Getty Images
Basil is an herb that belongs to the mint family; it is typically green in color and has a fragrant, sweet smell. The most common variety of basil in the U.S. is sweet basil, also known as sweet Genovese, but there are dozens of varieties with different flavor profiles, including licorice, cinnamon, garlic or lemon. Basil is commonly used in Mediterranean and Southeast Asian cuisines. In the U.S., basil is primarily grown in California, but it is also commercially grown in other countries such as India, Israel, Mexico, Yugoslavia, Italy and Morocco.
From a nutrition standpoint, Toby Amidor, MS, RD, CDN, FAND, award-winning nutrition expert and Wall Street Journal best-selling author of Diabetes Create Your Plate Meal Prep Cookbook, says, "One-quarter cup of chopped basil has only one calorie, but is brimming with antioxidant vitamins A and C. It also contains more than one-third your daily dose of vitamin K." In addition, she says that basil is chockful of phytochemicals that help protect cells from damage, such as Orientin and vicerin and the antioxidants rosmarinic and caffeic acid.
Basil is in season throughout the summer, typically from June to September, but the season may start earlier and last longer in warmer climes such as California.
When you're buying basil, look for perky bunches and bright green leaves. For basil that'll last longer, purchase a bunch with the roots still attached. Avoid any bunches with wilted, bruised or rust- or yellow-colored leaves.
You can store basil at room temperature or in the refrigerator. For room temperature storage, trim the roots, place the bunch of basil in a small glass of water, cover it loosely with a plastic bag and store it on the counter. Or you can store basil loosely wrapped in damp paper towels and plastic wrap (or a plastic bag) in the crisper drawer of your refrigerator.
You can freeze basil by blanching whole leaves and then freezing them before transferring them to a resealable plastic bag. Be sure to label and date the bag before putting it in the freezer. Or you can chop fresh basil and combine it with olive oil, then spoon the mixture into ice cube trays; the frozen cubes can then be added to soups, stews and sauces.
There are over 60 varieties of basil, but six common varieties include sweet, holy, opal, Thai, lemon and spicy globe.
Sweet Basil: has smooth, bright green, rounded leaves with a pungent licorice-meets-clove flavor. A key ingredient in pesto and often used to garnish salads and pasta dishes.
Holy Basil: has slender, strongly scented green or purple leaves with a fuzzy stem. It's primarily grown for religious and medicinal purposes.
Opal Basil: also known as purple opal for its deep-purple leaves, stalk and flowers. It is most similar in flavor to sweet basil, making it a good addition to pesto or as a pizza garnish.
Thai Basil: has pointed green leaves and purple stems. It has a peppery, licorice-like flavor and is commonly added at the end of cooking to spice up dishes like stir-fries or as a garnish for soup, noodles or rice dishes.
Lemon Basil: has vibrant citrus notes which play nicely in dressings, salads and tea, and can be rubbed onto proteins such as chicken, fish or tofu.
Spicy Globe Basil: also known as fino verde basil, this basil plant has small leaves and stems (which can be used in cooking) and a spicy, peppery aroma and flavor.
REDA&COPenpak Ngamsathain/Getty Images
Basil's herbaceous, sweet and peppery notes makes it a versatile ingredient in dishes such as sauces, salads and pastas, and drinks ranging from slushies to sparklers. Be sure to wash basil under running water and pat dry before use. Typically, the leaves are removed from the stem and torn, chopped, minced or cut into a chiffonade. Fresh basil leaves can also be used whole as a garnish for pizzas, salads and pastas. Basil stems can be used if they're on the smaller side, but thicker stems should be discarded as they will be bitter and can also alter the color of sauces (such as pesto).
A go-to use for bunches of basil is Pesto, an Italian sauce that works on just about everything, from pasta to pizza to sandwiches. Whizz up a bright sauce with citrus, as with this lemon-basil sauce that accompanies lamb chops, or combine basil with a flurry of fresh herbs to elevate Green Goddess Dressing.

Basil's herbaceous freshness and bright color brings a vibrant, verdant quality to all kinds of salads. There's the classic Italian Caprese Salad, where basil is as essential a component as the tomatoes and mozzarella, or a summertime standby of Fresh Corn and Tomato Salad. Asian Watermelon Salad's sweet anchor makes it well suited to using either sweet basil or Thai basil. For your next potluck or backyard barbecue party trick, bring a Warm Garlic and Herb Tortellini Salad to upgrade your basic pasta salad.
Soup might not be the most obvious choice for fresh herbs, but basil is an essential garnish for Vietnamese pho and this seasonal stunner of Abruzzo Summer Minestrone. Thai basil's anise-like flavor is the perfect addition to this Thai Corn Chowder, though sweet basil or spicy globe basil would work too. Basil can punch up side dishes to scene-stealing status, as with the basil coconut rice that accompanies a Thai-style basil shrimp dish, or this Lemon Herb Rice Salad.
Basil works its magic in summer drinks, too, like this crushable Watermelon Lemonade Slushie that gets its subtle herbaceous note from the addition of homemade basil simple syrup, or this non-alcoholic Watermelon Basil Cooler, where basil stars in both the mixture and as a garnish. Basil adds a complexity to cocktails like a Basil Lime Rum Fizz, which calls for sweet basil, but we think spicy globe basil would complement the ginger beer nicely. For this Summer Solstice Sake Sparkler, chopped basil gets shaken with mint, lemon, orange and cucumber to zesty, refreshing effect. Basil plays well with other herbs in cocktails too, as with this ultra-refreshing Frozen Basil Mint Caipirinha.
Thai basil brings a spicy-licorice note to these fruity Watermelon, Chili and Basil Ice Pops while sweet basil teams up with floral mint to add an aromatic, herbaceous quality to Basil-Mint Coconut Cream Pie. Try pairing sliced strawberries with a chiffonade of sweet basil, black pepper, granulated sugar and a splash of balsamic vinegar. You can eat the berry-basil mixture straight up or spoon it over ice cream or poundcake, or even waffles and pancakes for breakfast.