Total:

45 min

Active:

40 min
Total:

45 min

Active:

40 min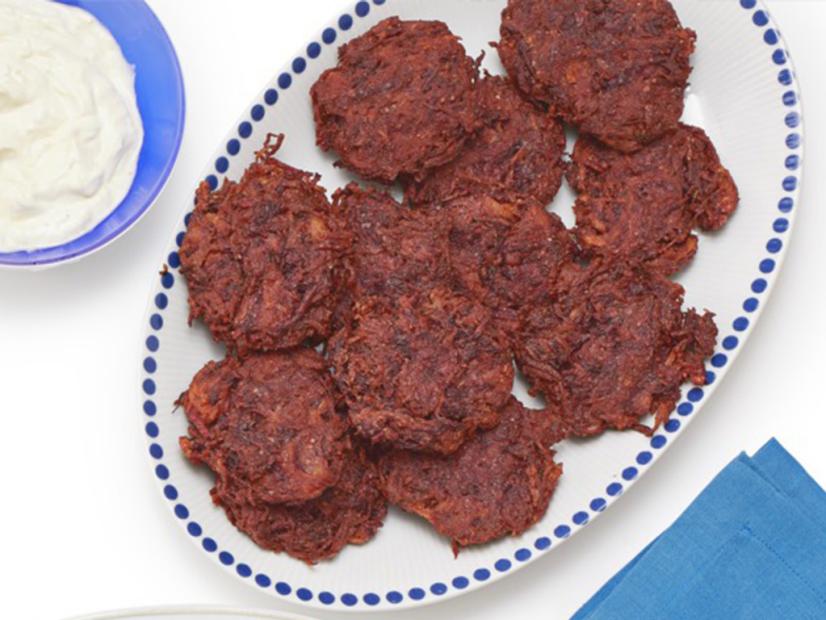 Whisk the yogurt with the olive oil, 1/2 teaspoon salt, 1/4 teaspoon pepper and the lemon zest in a small bowl until smooth. Refrigerate until ready to serve.
Grate the potatoes and onion on the large holes of a box grater into a colander set over a bowl. Add 1 teaspoon salt and a few grinds of pepper, toss well and let stand 5 minutes. Squeeze handfuls of the mixture firmly with your hands to remove as much liquid as possible. Blot dry with paper towels, then transfer to a large bowl. 
Add the beaten egg, grated beet, matzo meal or flour, dill and coriander to the potato mixture and toss well to combine. Scoop 1/4 cupfuls of the mixture and tightly pack into thin 3- to 4-inch pancakes. Transfer to a paper towel–lined baking sheet. 
Preheat the oven to 250˚. Heat 1/4 inch vegetable oil or chicken fat in a large nonstick skillet over medium-high heat. 
Working in three batches, fry the latkes until deep golden brown, 3 to 5 minutes per side, reducing the heat as needed if the latkes are browning too quickly. Remove to a rack set on a rimmed baking sheet and sprinkle with salt. Keep warm in the oven while you make the remaining latkes. 
Serve with the yogurt sauce.