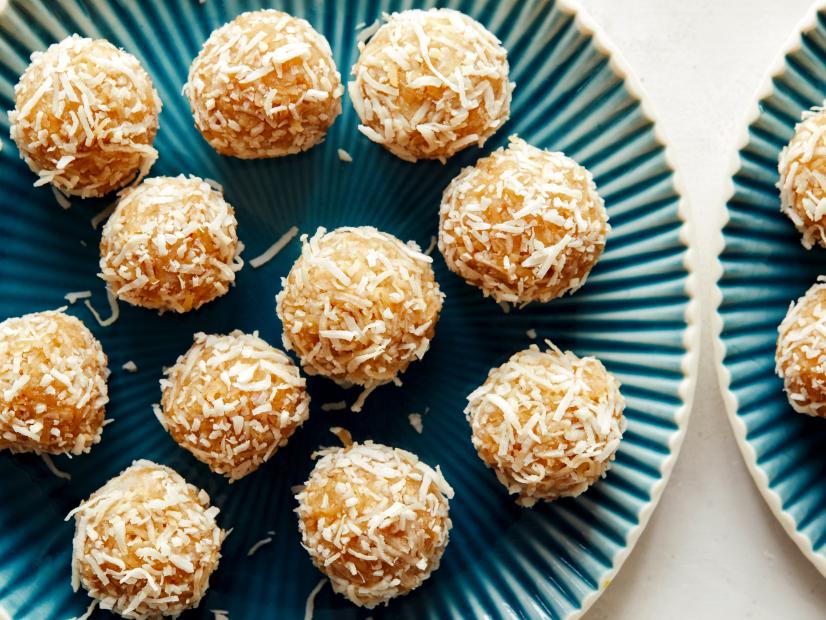 Combine the coconut milk, sugar and cardamom in a medium heavy-bottomed pot. Cook over medium-high heat, stirring occasionally, until the mixture has reduced and thickened, about 15 minutes.
Add 1 1/2 cups of the coconut and a pinch of salt and continue cooking, stirring occasionally, until the coconut completely absorbs the liquid, and the mixture starts to pull away from the sides of the pot, about 10 minutes.
Lower the heat to medium and continue cooking until the mixture resembles a stiff dough, about 7 minutes.
Transfer the mixture to another bowl to cool. Refrigerate uncovered until completely cool and thickened, about 30 minutes. For quick cooling, place the bowl in a larger bowl filled with ice water, making sure that the ice water doesn't reach more than three-quarters of the way up the outside of the smaller bowl. Stir the mixture occasionally to expedite the cooling process.  
Once the mixture is cool enough to handle, remove and discard the cardamom seeds, then roll the mixture into 3/4-ounce balls (about 1-inch wide; about 18 total). Roll each ball between the palms of your hands until smooth and even.
Put the remaining 1/2 cup coconut in a small wide bowl. Roll the balls around in the coconut until evenly coated. Refrigerate in an airtight container for up to 2 weeks.   
Panela is a hard block of raw sugar. I microwave it for 30 seconds twice, then break it into pieces. Jaggery is available in powder form. You can also use light muscovado sugar.