Add bold flavors to store-bought barbecue sauce with these helpful hacks.
It's easy to dress up store-bought BBQ sauce with these flavorful additions.
-For a sweet finish, Katie Lee adds peach preserves.
-For a bit of zing, Geoffrey Zakarian adds white wine vinegar and chopped parsley.
-For extra heat, Sunny Anderson adds sambal chili paste.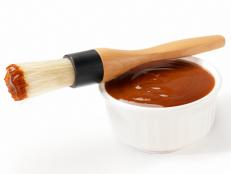 Learn how to transform everyday barbecue sauce so that it has the flavors you're craving.