Domino's Will Tip You to Deliver Your Own Pizza
Is it time to finally invest in an insulated pizza bag?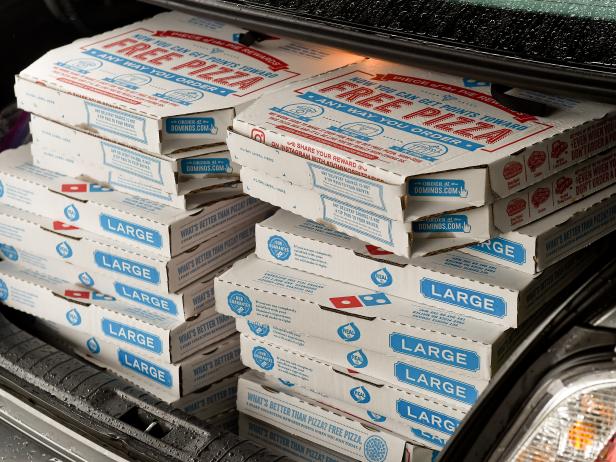 1255458762
Spring Township, PA - July 10: The trunk of Irene Sileski's trunk is filled with pizzas. At the ManorCare Health Services in Spring Township Friday afternoon where a group from the Berks Democratic Women dropped off a donation of pizzas from Dominos, drinks, and gift bags for the residents July 10, 2020. As a precaution against the spread of coronavirus / COVID-19 everyone wore masks, and staff members carried everything into the facility. (Photo by Ben Hasty/MediaNews Group/Reading Eagle via Getty Images)
MediaNews Group/Reading Eagle via Getty Images
Here's a tip about Domino's: The pizza chain is offering you a tip. As in a gratuity. The kind of tip you might (you should!) give a pizza delivery person.
Domino's is offering customers who order their pizzas online to be carried out — rather than delivered — a $3 "tip" to use on their next online carryout order. The idea is that these customers are acting as their own delivery drivers, and so, like all delivery drivers, they merit a tip.
"It takes skill to get pizza from a Domino's store to your door," Art D'Elia, Domino's executive president and chief marketing officer, explained in a news release. "As a reward, Domino's is giving a $3 tip to online carryout customers who take the time and energy out of their day to act as their own delivery drivers. After all, we think they deserve it."
Starting January 31 (just ahead of the big game on Sunday, February 13, which is one of the busiest pizza-ordering days of the year) and extending through May 22, 2022, carryout customers who place an online order of at least $5, after tax and before gratuity and donations, are eligible to claim a $3 coupon code, redeemable for another online carryout order (again, of at least $5) they can place the following week.
Customers can combine their Carryout Tip with other offers — and can basically keep claiming the deal, with a limit of one $3 Carryout Tip claim per day and one $3 Carryout Tip redemption per day, according to a Domino's page offering details.
And yes, you can receive another $3 Carryout Tip on an online carryout order (of at least $5, after taxes and before donations and gratuities) on which you are redeeming a $3 Carryout Tip.
So you could, conceivably, keep ordering pizza and tipping yourself day after day after day, from now until May 22.
In that case, maybe consider rolling the savings into one of those insulated pizza delivery bags that keep your pizzas hot? Just a thought …
Yup, the chain's $3 customer carryout tips are back!