All the Holiday-Flavored Foods You Can Buy Well Before the Holiday Season
Deck your cabinets with these delicious treats.
Keep in mind: Price and stock could change after publish date, and we may make money from these links.
Fall may have only begun a few short weeks ago, but we already have our sights on the holidays. (Simply put, we could all use some holiday cheer this year.) Problem is, it's a tad too early to break out the wreaths, dreidels and boughs of holly. But, thanks to a new crop of holiday-inspired products, you won't have to wait until another few months to get festive. Not only do these new releases taste just like the holidays, but they're already available. (That way, you can trade in the pumpkin spice for some peppermint bark and get a head-start on the holiday cheer.) Ready to deck your pantry with some delicious treats? We're breaking down the best holiday-inspired foods you can buy well before the most wonderful time of the year.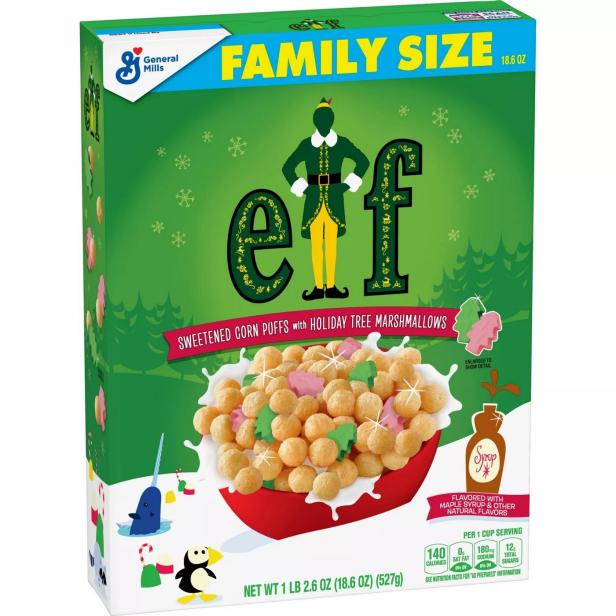 Buddy the Elf has yet another food group to add to his diet: Cereal. For a limited time only, General Mills is selling Elf Cereal, inspired by our favorite jolly character. This confectionary cereal features a blend of green and red tree-shaped marshmallows mixed into maple-flavored (yes, Buddy's favorite) corn puffs. Son of a nutcracker, this cereal is bound to get Buddy's seal of approval!
Buy It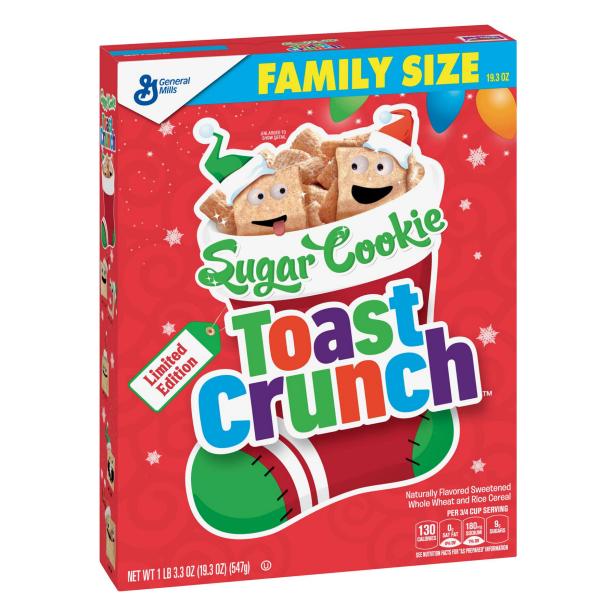 Speaking of cereal, General Mills is bringing back its Sugar Cookie Toast Crunch. As a consistent crowd-pleaser, this limited-edition option offers a festive spin on the cereal staple. This option blends Cinnamon Toast Crunch's cinnamon-sugar flavoring with a hint of vanilla. It's like having a batch of sugar cookies for breakfast! Sounds like a win-win for us.
Buy It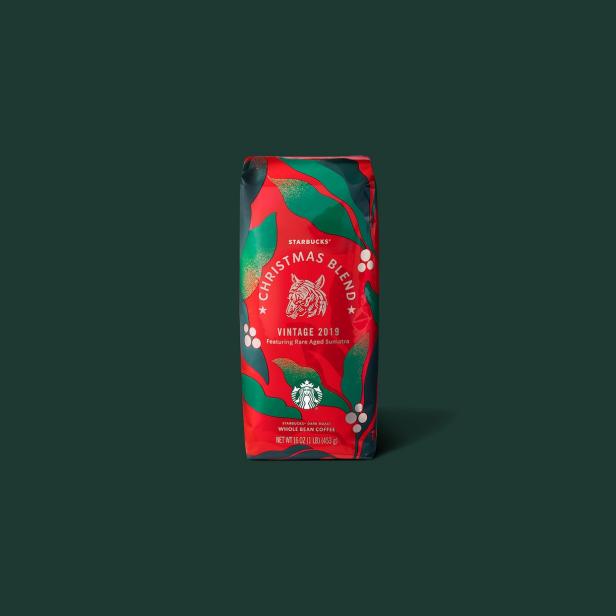 If you want to bring the holiday spirit to your morning routine, consider picking up a few pouches of Starbucks' Christmas Blend. With hints of cedar spice and classic baking spices this new blend is essentially Christmas in a cup. Not only is Starbucks' Christmas Blend available in regular-strength, decaf and espresso, but you can also customize your grind style when you order a bag (or, you know, five) online. Whether you want to switch up your coffee order or have a perfectly festive beverage once December 25 rolls around, this spicy blend is bound to add a pep to your step.
Buy It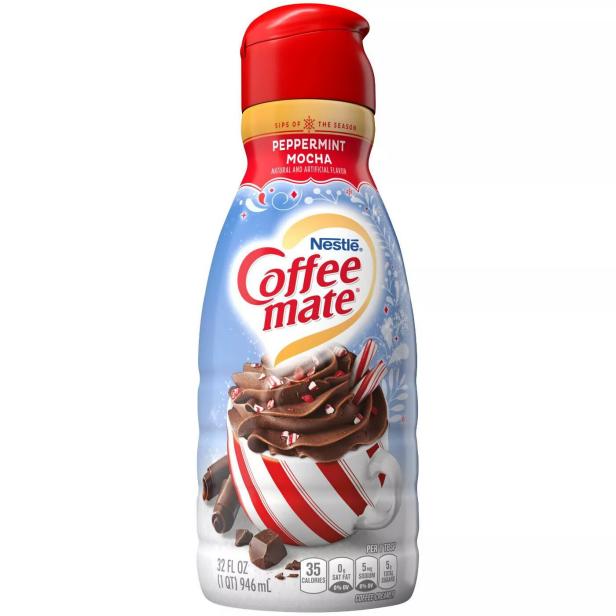 Why settle for one type of creamer when you can enjoy a few? If you want to add some versatility to your coffee routine, you'll love Coffee Mate's array of new, limited-edition creamers. The brand has recently expanded its creamer repertoire to a bunch of new flavors that are nothing short of festive. Plus, there's something here for everyone. Want to honor your sweet tooth? Coffee Mate teamed up with Toll House to create the perfect blend between a chocolate chip cookie and delicious cup of hot cocoa. Anyone who's looking to give their java a refreshing edge will love the all-natural Mint Truffle option. Or, if you want the best of both worlds, Coffee Mate's Peppermint Mocha creamer won't disappoint.
Buy It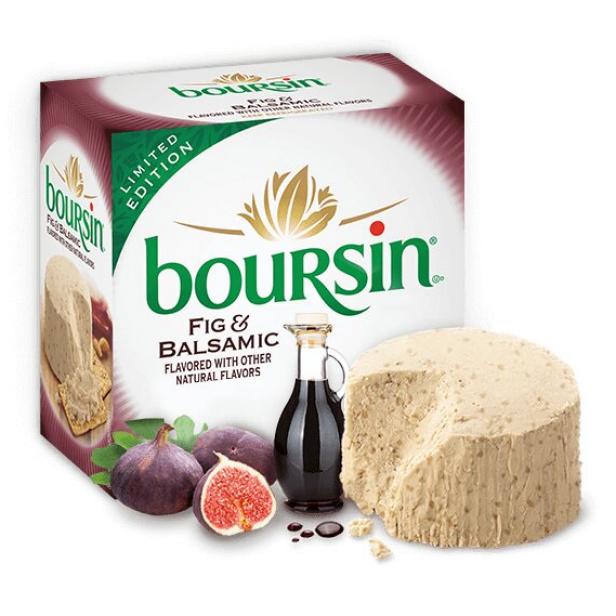 Anyone who wants to take their cheese board up a couple of notches this season will find a lot to love about Boursin's latest addition. With rich flavors of fig and balsamic, this new addition strikes a happy medium between sweet and savory. Whether you pair it with a slice of prosciutto or eat it solo, one thing's for sure: Boursin's Fig and Balsamic Cheese will have you wanting seconds.
Buy It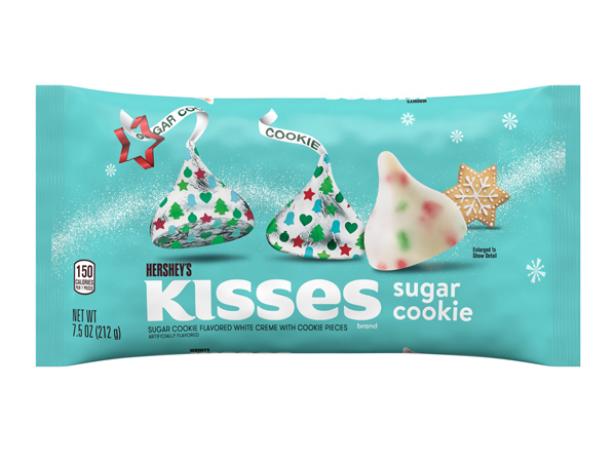 Maybe it's the slew of holiday parties — or the sugar cookies you leave out for Santa Claus — but there's something about the holidays that makes us want to pay some extra attention to our sweet tooth. Fortunately, Hershey's is rolling out a bunch of new treats that are equal parts scrumptious and seasonal. Most notably, Hershey's is reimaging its iconic Kisses with a sugar cookie flavor. Why choose between chocolate and sugar cookies when you can enjoy both in one snack?
Buy It
If you're looking for a way to treat your kids and flex their creativity, consider adding Hershey's Build-A-Santa to your grocery list. Think of this find as an edible (and unmistakably jolly) puzzle. This package features seven breakable pieces of Hershey's iconic milk chocolate — each etched with different parts of Santa's suit. Once you put all the pieces in the correct order, you'll be left with a sweet treat to devour.
Buy It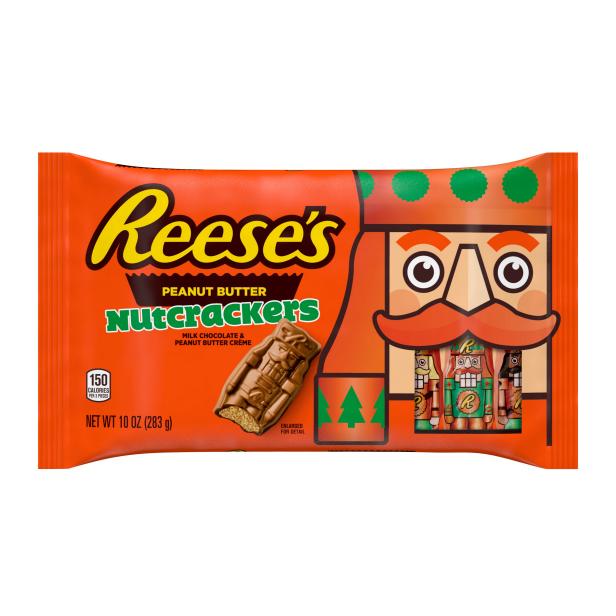 Calling all Reese's lovers: Your favorite chocolate-peanut butter candies are getting a makeover this holiday season. For a limited time only, select bags of Reese's will be chiseled into miniature nutcrackers. This is one dessert we wish Tchaikovsky added to the Land of Sweets.
Buy It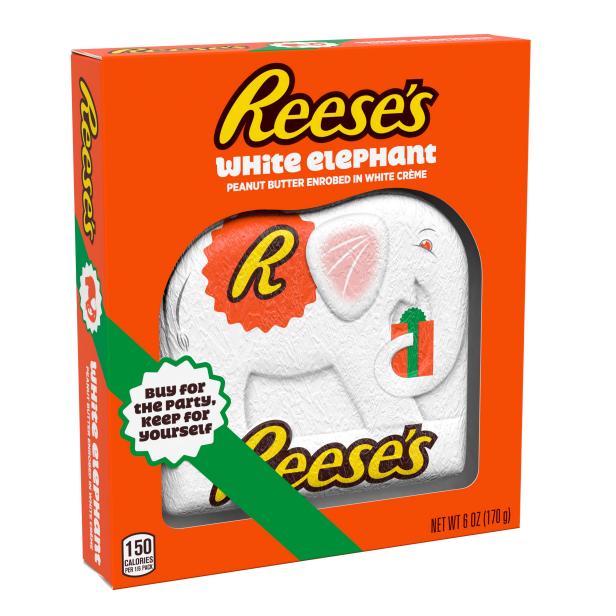 Or, if you want to give your Reese's some extra oomph, give Reese's White Elephant candy a try. At first glance, this elephant-shaped treat looks like a special Reese's peanut butter cup. However, the peanut butter is enveloped in a creamy white chocolate exterior. If you're planning on playing White Elephant once the holidays roll around, this is one treat you'll want to steal from unsuspecting guests.
Buy It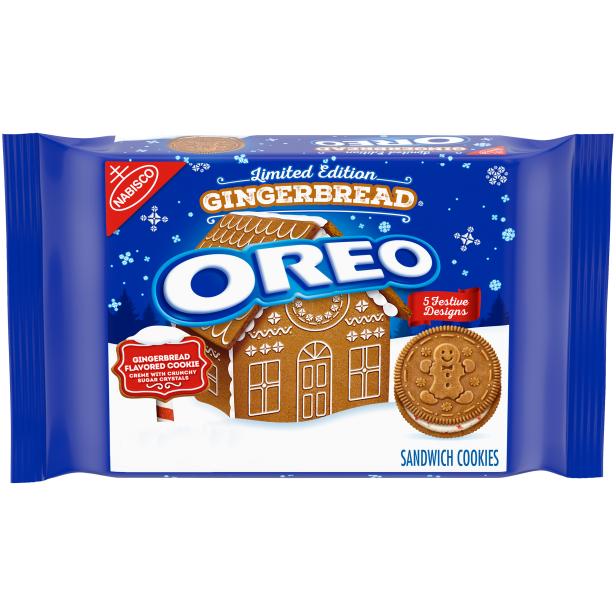 Torn between a sleeve of Oreos and freshly made gingerbread cookies? Thanks to Nabisco's latest reveal, it's possible to have the best of both worlds. Technically, gingerbread-flavored Oreos aren't exactly new; this seasonal flavor first made its debut in 2012. However, it's been a minute since the sweet treat was spotted on the shelves. So, what can you expect from this highly anticipated return? Two gingerbread cookies bound together with creme, complete with large sugar crystals.
Buy It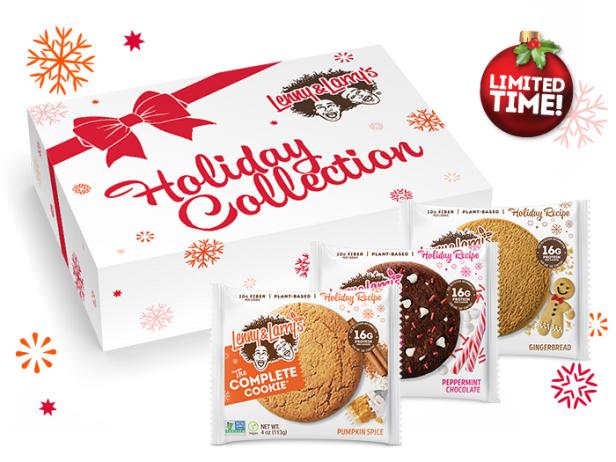 While a health-conscious holiday cookie seems like an oxymoron, Lenny & Larry's latest collection is here to prove otherwise. The Los Angeles-based brand recently released two holiday-themed cookie flavors: Gingerbread and Peppermint Chocolate. Not only are these cookies undeniably festive, but they're also good for you. Each piece also has 16 grams of plant-based protein, 10 grams of fiber and is free of egg, dairy and soy. Translation: A healthy way to get into the holiday spirit.
Buy It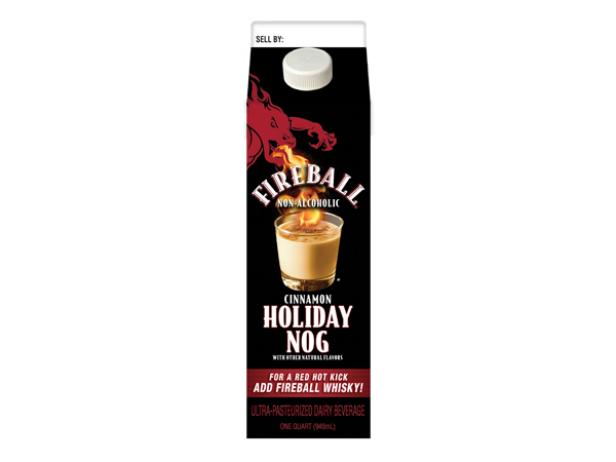 For as long as we can remember, egg nog has been the unofficial drink of the holidays. (Sorry, hot cocoa.) If you want to add some extra oomph to your beverage, Walmart is reportedly selling Fireball Holiday Nog. That's right, your favorite cinnamon-flavored whiskey is being transformed into a thick, creamy nog, complete with hints of vanilla and nutmeg. But unlike this bar cart essential, Fireball's Holiday Nog features no alcohol. So whether you want to enjoy it solo or mix it into your favorite cocktail, this is one beverage the entire family can enjoy.
Buy It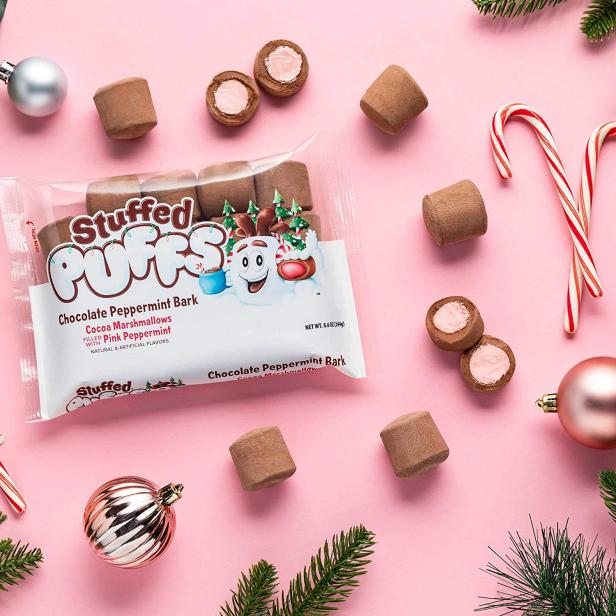 Chocolate-stuffed marshmallow brand Stuffed Puffs is going seasonal for the first time with its new Chocolate Peppermint Bark flavor. The chocolate marshmallows are loaded with a pink peppermint and white chocolate filling that, once dropped into warm milk, becomes just the right holiday hot cocoa.
Buy It
Smartfood's Snickerdoodle Popcorn
Very few things can rival making a big batch of popcorn and watching your favorite holiday movies. Want to give your next binging session a festive spin? You're in luck: According to popular Instagram account @CandyHunting, Smartfood is rolling out a limited-edition, Snickerdoodle-flavored popcorn.
Ice Breakers Snowman Bottle Pack Gum
Consider Ice Breakers' new snowman gum ideal for anyone who wants a midday pick-me-up, but doesn't necessarily want to dive into the desserts. Packed with a candy cane flavoring, this sugar-free gum gives you a dose of the holiday spirit — while keeping your breath minty fresh. Plus, between its cute snowman-shaped container and shake bottle construction, the packaging alone is bound to put a smile on your face.