10 Fun Ways to Enjoy Coconut Water
Chilled coconut water is a tasty beverage (and keeps gaining popularity), but I've been coming up with all kinds of ways to use it.
Blend coconut water with peanut butter and Sriracha for a dipping sauce, and then serve with grilled chicken, steak or veggies.
Brew green tea using pineapple-coconut water instead of plain water.
Make a coconut cocktail: combine coconut water with rum and fresh lime, and shake with ice.
Mojitos, anyone?
Make a big batch of Double Coconut Rice with Green Lentils (recipe below).
Double Coconut Rice with Green Lentils
1 cup long-grain brown rice
Combine brown rice, coconut water, coconut milk and salt in a medium saucepan. Bring to a boil. Reduce heat to a simmer, cover and cook for 5 minutes. Add lentils, stir and cover again; cook for an additional 40 to 45 minutes, until the liquid is absorbed. Turn off heat and rest for 5 minutes. Fluff with a fork and serve.
Nutrition Info Per ½ cup:
Calories: 147; Total Fat: 3 gram; Saturated Fat: 2 grams; Total Carbohydrate: 25 grams; 
Sugars: 2 grams; Protein: 5 grams; Sodium: 78 milligrams; Cholesterol: 0 milligrams; 
Fiber: 5 grams
One cup of plain coconut water has 45 calories, 11 grams of carbs, 470 milligrams of potassium and zero fat. Many brands come flavored with various fruit juices and purees. Depending on the brand, sippers will also see a slight increase in calories for the flavored offerings, about 15 additional per cup.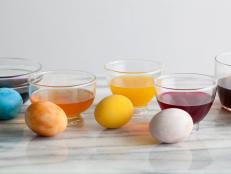 Learn how to naturally color your own Easter eggs from Food Network Magazine. It's a fun method to do with your kids at home.