The One Thing Food Network Staffers Always Buy at Costco
Add these staffers' picks to your next Costco haul!
Keep in mind: Price and stock could change after publish date, and we may make money from these affiliate links.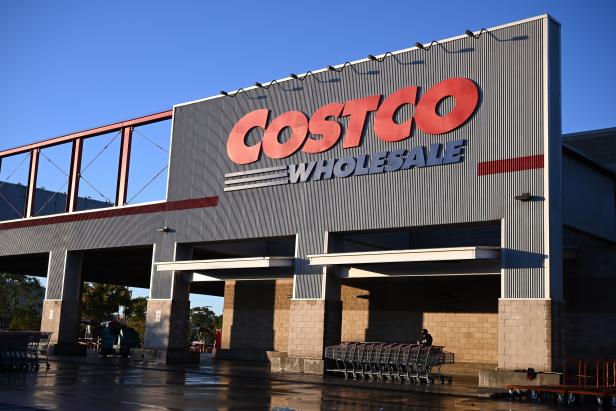 1187384017
The Costco store is seen in Burbank, California, on December 9, 2019. - Costco Wholesale Corporation, an American multinational corporation which operates a chain of membership-only warehouse clubs, will release its earnings report later this week. (Photo by Robyn Beck / AFP) (Photo by ROBYN BECK/AFP via Getty Images)
Whether you're in it for the free samples, the option to buy in bulk or the ability to do all your grocery and furniture shopping in one stop, there is something about Costco we all love. The wholesale warehouse has just about everything you could imagine, and when you sign up for a membership, you gain access to more than just your average grocery offerings. For some Food Network staffers, those special groceries are worth making a solo trip for. We've rounded up our staffers' favorite Costco products from sheet cakes to pretzels!
Kirkland Signature Saigon Cinnamon
This is the spiciest cinnamon ever. Truly, I've never found another brand that compares. I put this cinnamon on oatmeal, yogurt, even in my morning coffee. It's the most flavorful cinnamon I've tried.
-T.K. Brady, Senior Editor
I am a huge chicken salad fan, and I love Costco's version! (It's no surprise it's so good because they also have great rotisserie chicken!) Plus, Costco has one of our family's favorite wines, Meomi, for such a good price. Let's not forget the samples, though!
-Gabriela, Social Media Manager
Chocolate and Vanilla Sheet Cakes
Cake. Always cake. I'm talking about the sheet pan cake that serves 50. I usually go with the chocolate buttercream frosting on top and chocolate mousse filling inside (all two pounds of it). I served it at my wedding, and that was one of the best decisions I've ever made. Whether you're celebrating a holiday, birthday, graduation, retirement, new baby – there is a cake for you.
-Laura Eshelman, Supervising Producer
Don't sleep on the sheet cakes!! Normally, you can expect this typical dessert offering at a graduation party or anniversary celebration to be pretty, well, sub-par. But I recently attended a friend's baby's baptism and was impressed enough with the cake to ask where it was from. "Costco!" she said, and I have never been the same. It was buttery, tender and not too sweet — you could actually taste the vanilla in the frosting and not just sugar! Next time I have a family party to plan, I'm buying one of these.
-Lauren Piro, Director, Editorial Food Network
I've never actually shopped at Costco before, but I've been hearing so many amazing things about Costco's sheet cakes recently that I've made the decision to order one for my (and my twin sister's) birthday this upcoming January. Vanilla or chocolate cake with cheesecake or chocolate mousse filling and buttercream? Put me down for two!
-Michelle Baricevic, Online Editorial Coordinator, Food Network Magazine
Vegetable and Chicken Potstickers
I've been obsessed with these chicken + veggie dumplings since I was in middle school, and I would regularly make myself a batch of 12 to 15 to eat in one sitting (even though the serving size is probably 5😭). My brother and I would compete to see who could make the better dumpling sauce, mixing in all the spices and ingredients we could find. I won't say who came out on top — let's just say, one of us ended up working in food media and one of us is an engineer now. 😊 To this day, I still can't leave Costco without grabbing a huge bag of these!
-Toren Weiner, Director, Social Media Food Network
Chocolate and Raspberry R
ugelach
It's most likely a nostalgia thing, but I can't take a trip to Costco without getting the rugelach. They've had the same flavors (chocolate and raspberry) for more than 20 years, and, to me, it's perfect. They are perfectly filled, flaky with a crunchy, sugar topping, and I eat at least four every time I open the container. Thankfully, Costco is known for their large packaging, otherwise they would likely be gone in a day if it was any smaller!
Kirkland Peanut Butter Filled Pretzels
A Costco favorite that has become a staple in our home is definitely their peanut butter filled pretzel nuggets. A great snack to grab on the go and a huge craving to munch on around the house. These bite-sized pretzels can be addicting, and the 55 oz sometimes can go quickly. Our family rule is whoever pops the last nug in their mouth has to buy the next jar!
-Lauren Tom, Associate Content Producer