Level:

Easy

Total:

33 min
Prep:

15 min

Cook:

18 min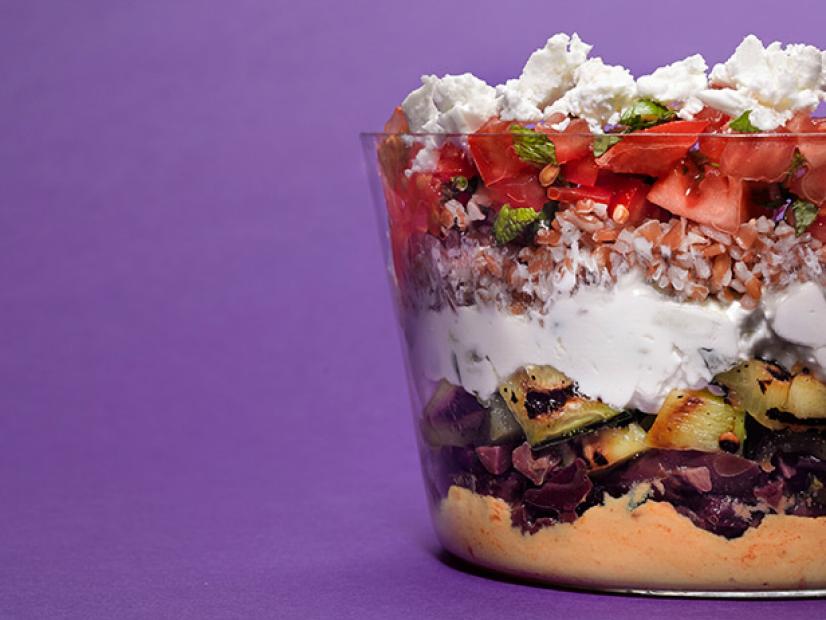 You'll need a 2-quart bowl or small trifle dish for these dips. Scoop them out with a big spoon; each dip serves about 8.
Feta
Crumble 3 ounces (about 3/4 cup).
Tomatoes
Toss 3 chopped plum tomatoes with 1/4 cup each chopped mint and parsley, 2 tablespoons finely chopped red onion and 1 tablespoon each olive oil and lemon juice.
Bulgur
Bring 1/3 cup water to a boil; add 1/3 cup bulgur, season with salt and simmer over low heat, covered, until tender,10 minutes. Add 1 teaspoon olive oil and fluff with a fork; let cool.
Tzatziki
Combine 1/2 cup each plain Greek yogurt and diced cucumber, 1 tablespoon each lemon juice and olive oil, and salt and pepper to taste.
Grilled Vegetables
Slice 1 small eggplant and 1/2 medium zucchini lengthwise 1/2 inch thick; toss with olive oil and salt. Cook on a grill pan over medium-high heat, turning, until tender, about 8 minutes. Let cool; coarsely chop.
Kalamata Olives
Pit and coarsely chop 1/3 cup.
Hummus
Add 3/4 cup hummus, preferably roasted red pepper flavor.