Level:

Intermediate

Total:

3 hr 15 min
Prep:

55 min

Inactive:

2 hr

Cook:

20 min
Level:

Intermediate

Total:

3 hr 15 min
Prep:

55 min

Inactive:

2 hr

Cook:

20 min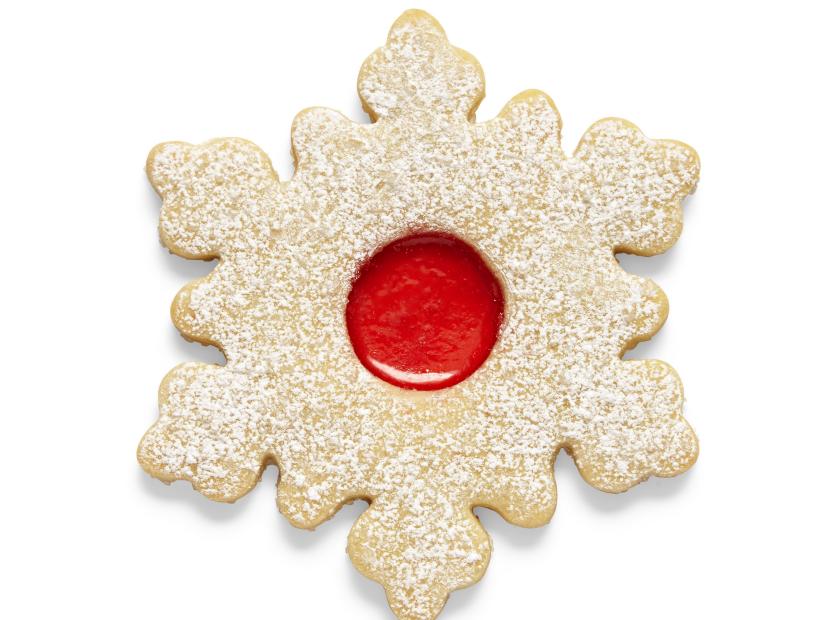 Whisk the flour, baking powder and salt in a medium bowl. Beat the butter and granulated sugar in a large bowl with a mixer on medium speed until light and fluffy, about 4 minutes. Increase the mixer speed to medium high; add the egg and vanilla and beat until incorporated. Reduce the speed to low; add the flour mixture in 2 batches and beat until just combined. Divide the dough between 2 sheets of plastic wrap; shape into disks. Wrap and refrigerate until firm, about 1 hour.
Line 2 baking sheets with parchment paper. Generously dust a work surface with confectioners' sugar. Working with 1 disk at a time, roll out the dough until about 1/3 inch thick, dusting with more confectioners' sugar as needed. (Return the dough to the refrigerator if it gets too soft.) Cut out shapes with 3- to 4-inch cookie cutters; arrange 2 inches apart on the prepared baking sheets. Using a sharp paring knife or a small cookie cutter, cut out smaller shapes from the middle of the cookies. Reroll the scraps and cut out more cookies. Refrigerate the cookies until firm, 1 hour.
Position racks in the upper and lower thirds of the oven; preheat to 350 degrees F. Pulse the hard candies in a food processor until coarsely ground. Mound the candy inside the cut-outs of the cookies. Bake, switching the pans halfway through, until the cookies are lightly browned around the edges and the candy is melted, about 16 minutes. Let cool completely on the baking sheets. Dust with confectioners' sugar; brush off any from the centers, if desired.