Level:

Easy

Total:

1 hr 10 min
Prep:

30 min

Cook:

40 min
Level:

Easy

Total:

1 hr 10 min
Prep:

30 min

Cook:

40 min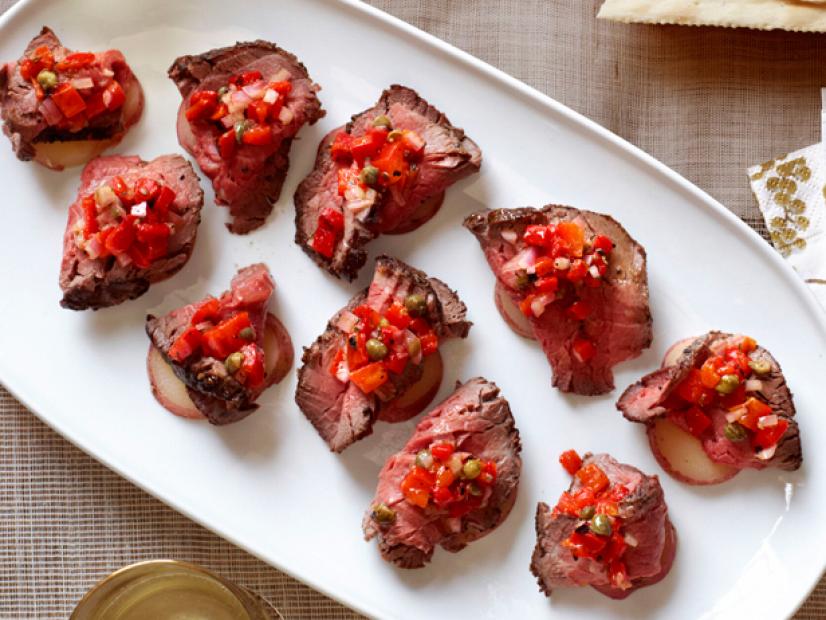 Preheat the oven to 350 degrees F. Season the meat with salt and pepper. Heat 1 tablespoon olive oil in a small ovenproof skillet over medium-high heat. Add the beef and brown on all sides, about 6 minutes. Transfer the skillet to the oven; roast until a thermometer inserted into the meat registers 125 degrees F, about 30 minutes. Transfer to a cutting board; let rest 15 minutes. 
Meanwhile, put the potatoes in a saucepan, cover with cold water and add salt. Bring to a boil, then reduce the heat and simmer until just tender, up to 5 minutes. Drain and let cool. 
Mix the roasted peppers, shallot, vinegar, the remaining 1 tablespoon olive oil, the capers, garlic, rosemary, sugar, and salt and pepper to taste in a bowl. Thinly slice the beef and arrange on the potato rounds; top with the pepper salsa. Serve warm or at room temperature.