Add a celebratory note to your awards party table with these appetizer upgrades.
Pigs in Tuxedos: Using black napkins with white insides, cut out rectangles large enough to wrap around each of your pigs in blankets (or hot dogs in buns). Using double-sided tape, tape back the edges of the short ends of each rectangle so the white underside peeks out on either end--these will be the lapels of your tuxedos! Tie small pieces of red ribbon into knots, cut to desired bowtie size and tape to the top of one of the white "lapels" on each napkin piece. Tape the tuxedo napkins around your pigs in blankets for fancy and portable party snacks!
Cucumber Movie Reels: Cut cucumbers into discs. With a pastry tip or a thick straw, cut out 6 holes around the circumference of each. Coat round crackers with cream cheese and dip the cream cheese sides in black sesame seeds to coat. Place a cucumber slice on top of each cracker.
Walk of Fame Chips and Dip: Cut stars out of pita bread with a star-shaped cookie cutter. If it's difficult to cut the pita with the cookie cutter alone, push down on the cutter with a rolling pin. Drizzle the bread pieces with olive oil, salt and pepper and bake at 400 degrees until nice and crisp, about 10 minutes. Fill a bowl with roasted red pepper hummus. Place one of the star chips in the center of the bowl, then sprinkle poppy seeds over the entire surface. Pull the pita star off and your bowl will look just like a star on the walk of fame!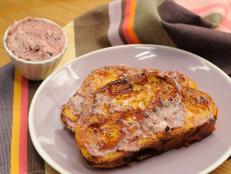 Learn what compound butter is and how to use it, plus three easy recipes for sweet and savory compound butters.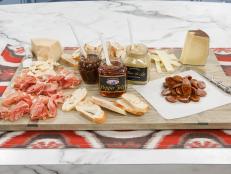 When family and friends gather together, people usually show up hungry! An easy way to satisfy the hungry crowd is to set out the perfect meat and cheese board. The Kitchen has some helpful tips to make it just right.